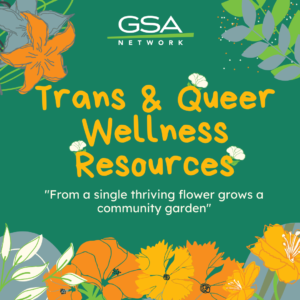 The health and wellbeing of trans and queer youth of color is central to what we do every day in the GSA movement—whether that's organizing for justice, creating safe spaces in schools, or advocating for comprehensive sex education.
Taking care of ourselves and those around us is integral to a thriving movement and our own personal wellbeing. In the face of a global pandemic, it is now more important than ever to find time to center ourselves and build a strong community of support. 
Wellness encompasses a wide variety of activities, from art to music to reflective exercises. The Queer and Trans Wellness Resources were developed specifically for queer and trans youth of color who are working to create change in their schools and communities, while balancing their physical and mental wellness. 
Everyday is a good day for wellness!
Readings
Radical Readings for the Revolution (Clickable links to PDF versions of each book)
Freedom is a constant struggle: Ferguson, Palestine, and The Foundations of Movement by Angela Y. Davis
Stay Solid!: A Radical Handbook for Youth by Matt Hern
Beyond the Gender Binary by Alok Vaid-Menon
Unapologetic: A Black, Queer, and Feminist Mandate for Radical Movements by Charlene A. Carruthers
Captive Genders: Trans Embodiment and the Prison Industrial Complex edited by Eric A. Stanley & Nat Smith, foreword by CeCeMcDonald
Against Equality: Queer Revolution Not Mere Inclusion edited by Ryan Conrad
Sister Outsider: Essays and Speeches by Audre Lorde
The New Jim Crow: Mass Incarceration in the Age of Colorblindness by Michelle Alexander
Fun/relaxing activities
Thought provoking activities
Guided Meditations
Documentaries
Screaming Queens
Major!
Paris is Burning
Disclosure
Brother Outsider
I Am Not Your Negro
Happy Queer Movies
Boy Meets Girl
Saving Face
Moonlight
The Half of It
Akron
Naz and Maalik
Additional Resources/Tips