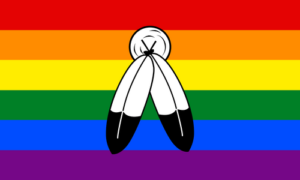 Two-Spirit youth deserve culturally competent programming and they deserve a voice in creating it. GSA Network will launch a Two-Spirit Initiative to bridge the gap between Native youth organizing and LGBTQ+ youth organizing. This identity-based initiative provides space for youth to bring their cultural practice into their organizing activities and supports our organization's efforts to decolonize our curricula. 
Read more about why we launched a Two-Spirit Initiative here.
The Two-Spirit Initiative will convene an Advisory Panel starting in the spring of 2021 to create resources and curriculum relevant to issues that Two-Spirit youth are navigating in their education and communities. The Advisory Panel will include members of Native-led organizational partners from Alaska, Hawaii, Oklahoma, New Mexico and Montana. The Two-Spirit Initiative will also provide a foundation to ensure that all of our programming integrates a cultural lens to build solidarity for Indigenous people across all youth who are in our network. We will share more information about our partners in this important Two-Spirit Initiative and updates about our work in 2021.
Related Resources:
Two-Spirit Spotlight Series– As part of our Native American Heritage Month series, we're highlighting Two-Spirit individuals from our collective to show the diverse range of identity and experience in our community. Check out their stories and give them a follow on their social media platforms!
Native American Heritage Month Blog series
Watch the full interview below with Siihasin Názbaa' (they/them), a Diné Two-Spirit Water Protector, as they discuss Two-Spirit identity, their experience on the frontlines opposing Line 3, and what it will take to break down the colonial systems that don't serve our communities.