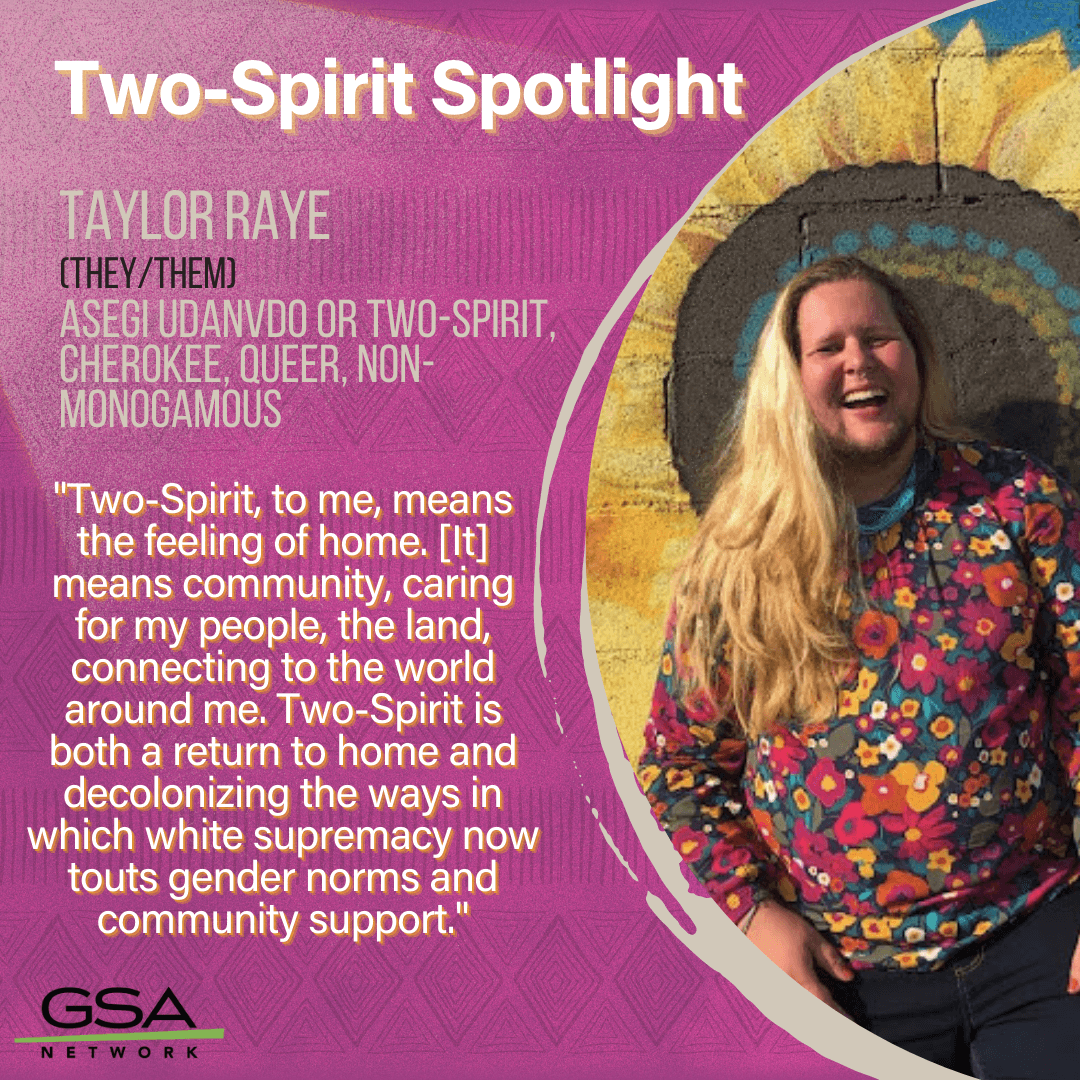 As part of our Native American Heritage Month series, we're highlighting Two-Spirit individuals from our collective to show the diverse range of identity and experience in our community. Please read their stories and give them a follow on their social media platforms! Learn more about our Two-Spirit Initiative here. 
Name: Taylor Raye
Pronouns: They/Them
Identities (Cultural background, 2S or Indigiqueer or other, etc.): 
I am asegi udanvdo or Two-Spirit. 

I am Cherokee and live in Cherokee Nation within the state of Oklahoma.

I am a queer person, and I see that identity as more than just sexuality. 

I practice ethical non-monogamy within my relationships.
Q&A 
What does 2S/Indigiqueer mean to you? 

Two-Spirit, to me, means the feeling of home. Until I learned about my culture and my history, I never felt like I was seen. Two-Spirit means community, caring for my people, the land, connecting to the world around me. Many Native tribes recognized and understood the importance of people who encompass, blend, and live across the gender binary. Two-Spirit is both a return to home and decolonizing the ways in which white supremacy now touts gender norms and community support.

What brought you into 2S/Indiqueer movement work? 

About a decade ago, I was realizing that social constructs of gender were leading me down a path towards toxic masculinity. I did not feel right in any community I could see as a person of trans experience. I began asking more questions of my Cherokee family who still maintained a relationship with me after coming out as LGBTQ2S+. Much of my family has been heavily colonized in Christianity- this has caused great distress for me in finding who I am. When I learned that there was a word for me, for how I saw myself in connection to my community, it was life-changing. A couple of years later, I had the opportunity to support Standing Rock during December of 2016, and sought out the Two-Spirit camp. I met people at SR who accepted me for exactly who I was, and introduced me to people who could help me on my path to learn more about my culture and how to keep it alive. I have continued to do work within the movement since that day; most recently I spent time at Red Lake Treat Camp supporting the end of Line 3. The camp centered Two-Spirit and Indigiqueer people; the experience was life-changing.

How do you cultivate 2S/Indigiqueer joy? 

Every opportunity I have to learn more about my people brings me joy. I have enrolled in classes to learn my language (it's open to all-

https://language.cherokee.org/cherokee-language-classes/online-cherokee-classes/

) because language is such an important part of understanding who we are. I also follow Indigenous artists on social media via TikTok and Instagram. I work to learn, and also invest in, Native art practices such as beading and leatherwork. If I have the chance to pass on knowledge to our next generation, I am joyful.

What work would you like to see in the Indigenous or LGBTQ2IA+ communities?

I would love to see Two-Spirit people fully embraced and integrated back into the Native and Indigenous communities. I continue to struggle to be fully accepted into the Native community or LGBTQ2S+ community. Ending the colonized practice of binaries and the concept of fitting into one box to be accepted is something I'd love to see in my lifetime. I would love to see more Two-Spirit representation in both Indigenous and LGBTQ2S+ communities. We are here, and we are very much a part of you. I think this also includes recognizing that Two-Spirit and Indigiqueer people deserve equitable treatment regardless of which community they are engaging.

What would you like our 2S/Indigiqueer youth to know?  

You are our warriors, our advisors, our changemakers. Elders and Two Spirit/Indigiqueer people who came before you can share their stories, their experiences, and their wisdom. You also hold the power to carry on this history as well as bring our cultures into the future. You walk the line between many worlds, and you have the chance to unite them all together through healing, understanding, and action.

How can we support your work? You can follow me on Instagram (@asegi_udanvdo) or TikTok (@unicornmischief,) but I super encourage you to research Native content creators (a quick # search, y'all!) and follow those who are more accessible on social media. Most of my work on social media is just creating a platform for others' Indigenous content! You can follow Freedom Oklahoma's work on Instagram, Facebook, and Twitter.