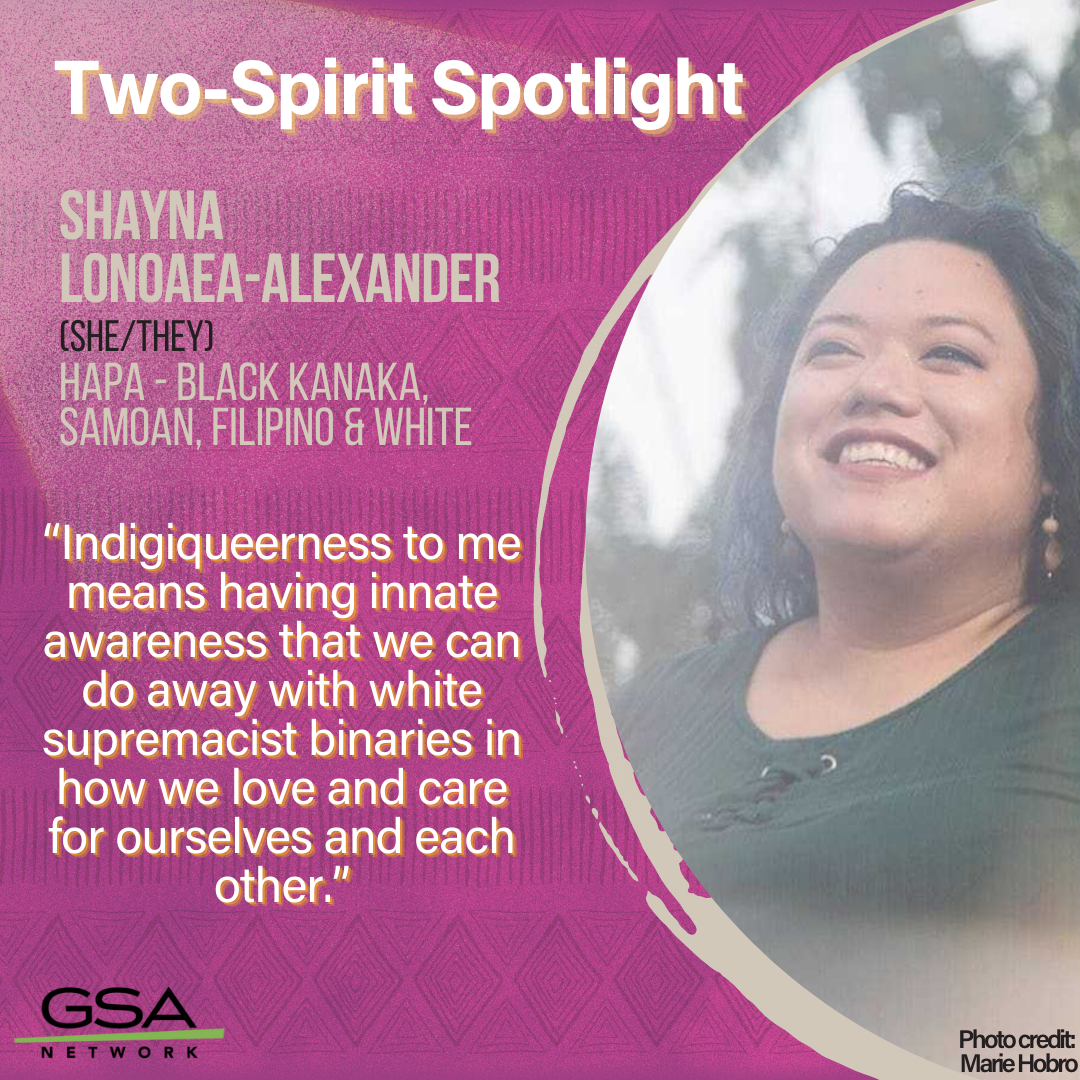 As part of our Native American Heritage Month series, we're highlighting Two-Spirit individuals from our collective to show the diverse range of identity and experience in our community. Please read their stories and give them a follow on their social media platforms! Learn more about our Two-Spirit Initiative here. 
Name: Shayna Lonoaea-Alexander
Pronouns: She/They
Identities (Cultural background, 2S or Indigiqueer or other, etc.): 
I'm hapa, as in part-Hawaiian. My dad's Black Kanaka and my mom's Samoan, Filipino, and white. 

I'm a big sister to more siblings and cousins than I can count. 

I'm a queer, hapa community organizer living in Nacotchtank/Anacostan land with my partner and our dog.
Q&A 
What does 2S/Indigiqueer mean to you? 

Indigiqueerness to me means having innate awareness that we can do away with white supremacist binaries in how we love and care for ourselves and each other. We're sacred and I'm constantly learning how our language to describe these relationships with each other and our gender reflects the diversity, fluidity, and depth of the Pacific. In Hawai'i, and pulling from knowledge from teachers like Kumu Hina, māhū means to be "in-between" genders such as male and female but can also refer to Kanaka who are not cis and/or hetero. We also have language like aiwahine and aikāne to describe women in relationships with women and the same for men.

What brought you into 2S/Indiqueer movement work? 

A decade ago, I saw a youtube video of a young man testifying at his state legislature for a bill that would allow his two moms to marry each other. I thought I could do that, and reached out to almost every LGBTQ organization in Hawaii to start volunteering and learning how to affect policy change at the local and state level. My politics have evolved greatly since then, but I think a lot about the activists who record, document, and share their knowledge online and have made a huge impact in how I navigate the world.

How do you cultivate 2S/Indigiqueer joy? Māhū creatives kept me alive, learning and laughing this past year during the pandemic. Go follow Tiktok creators like @titaboy, @_virgorising, @halfcasted, @pashynsantos, @unkoshane, and @duckiemoomoo.
What work would you like to see in the Indigenous or LGBTQ2IA+ communities?

Māhū, trans, nonbinary people, especially māhūwahine deserve life-affirming healthcare including medication, surgeries, and LGBTQ-competent healthcare providers. In Hawai'i, it's an endless story loop of our māhū siblings needing to take on the role of educator, advocate, historian, and cultural ambassador just for visits with doctors, therapists, employers, HR departments, and insurance companies. We need systems that go beyond the basic minimum of claiming "LGBTQ-friendly" to systems that actually honor the beautiful existence of gender and sexual diversity and ensure we thrive.

What would you like our 2S/Indigiqueer youth to know?

There are people who want the same things you do; cops out of schools, LGBTQ inclusive curriculum, ending the school-to-prison pipeline, and impacting school and legislative policy. Find them and you'll figure out how to build something together.

How can we support your work? I'm @shaynalalex on all platforms.