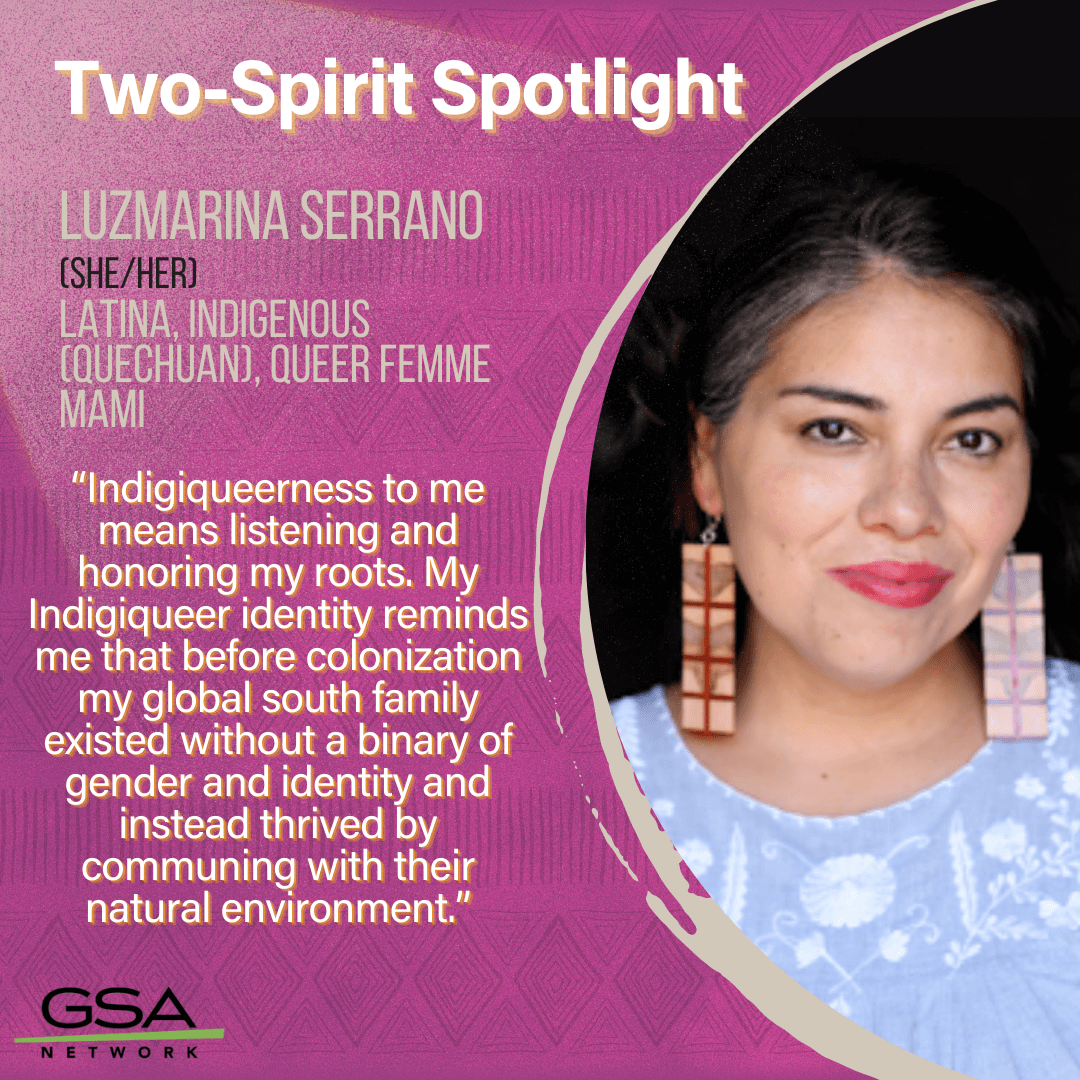 As part of our Native American Heritage Month series, we're highlighting Two-Spirit individuals from our collective to show the diverse range of identity and experience in our community. Please read their stories and give them a follow on their social media platforms! Learn more about our Two-Spirit Initiative here. 
Name: LuzMarina Serrano
Pronouns: She/her
Identities (Cultural background, 2S or Indigiqueer or other, etc.): 
I'm Latina. I'm Indigenous. Born and raised in Munsee Lenape by Colombian and Peruvian parents. More specifically, my Indigeneity comes from my Quechuan dad. 

Daughter of migrant parents.

I'm a queer femme mami to two little humans, Paloma and Vida.
Q&A 
What does 2S/Indigiqueer mean to you? Indigiqueerness to me means listening and honoring my roots. My queerness and femme identity challenges the existing patriarchal system. My Indigiqueer identity reminds me that before colonization my global south family existed without a binary of gender and identity and instead thrived by communing with their natural environment.
What brought you into 2S/Indiqueer movement work? Whew, what a winding path…. When I connect to this work, I must first be sure that I am connecting with my people. Previously I worked with migrant laborers in supporting access to housing, education, and health care. My queerness sometimes felt invisible in these settings, but as the daughter of an immigrant, I felt called to the work. Eventually, when an opportunity arose which allowed me to work with trans and queer youth, I jumped at the idea! Doing this work in New Mexico has allowed me to make room for my Indigenous identity and through that journey, I have been able to connect with other Two-Spirit movement leaders from New Mexico to Standing Rock. I am so excited to be able to bring this work to GSA Network and I look forward to the incredible work our collective generates.
How do you cultivate 2S/Indigiqueer joy? My joy comes from being in community with fellow Two-Spirit family and reminding myself of my power and strength every day.
What work would you like to see in the Indigenous or LGBTQ2IA+ communities? I think our communities need to come together and be aligned in our values. Remembering our histories and reviving our legacies is a key element in learning to be our authentic selves. I also want actual reparations to happen in education and healthcare. I want us to be talking about circular migration, border walls, and our relatives in the global south. I want us to ask ourselves, how are we coming together and not making more divisive communities?
What would you like our 2S/Indigiqueer youth to know?  You are loved. You are seen. We are listening AND BEST BELIEVE, we got your back.
How can we support your work? Find me on Instagram (@arepafemme) and follow the work I am doing with GSA Network. We are currently working on creating Two-Spirit resources that can be used in GSA clubs all over the country. I'd love to connect, so please feel free to reach out.