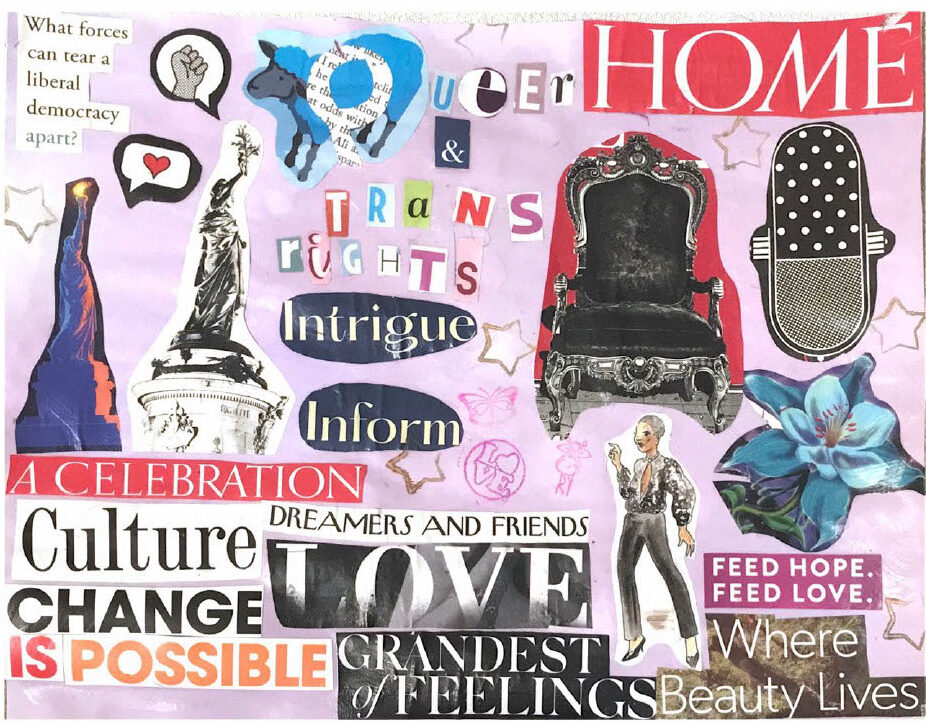 By Maya H.
The history of youth organizing is one that is vast and monumental. In nearly every movement for a better world, young people have stepped up to the plate, ready to demand a better future for themselves. For instance, during the Vietnam War, it was high school students Christopher Eckhardt, Mary Beth Tinker, and John Tinker who wore the now famous black armbands in protest of the US invasion. The Tinkers would soon sue after being suspended, resulting in Tinker v. Des Moines Independent Community School District being heard before the Supreme Court. The ruling would cement a judicial precedent that protected students' personal freedoms within the halls of educational buildings.
The activism of the Tinkers is well known and often touted as the height of youth involvement in anti-Vietnam War advocacy. Yet across the country at the same time, BIPOC, queer, and trans youth were staging sit-ins, rallies, and putting their all on the line in support of the same cause, with none of the media recognition or coverage.
In the years since Tinker v. Des Moines, more and more youth have used their cemented Constitutional rights to make a stand for what they believe in. Trans and queer youth, especially, have become involved in school-wide activism, starting GSAs, participating in the GSA Day for Racial Justice, and working to allow students to honor the Day of Silence. Though sometimes criticized as "distracting" and "showy," the Day of Silence provides an annual opportunity for queer and trans youth across the country to show what the education world misses out on when queer and trans youth don't feel safe in the classroom.
Countless other fights similarly have queer and trans BIPOC paving the way forward. In the fight against climate change, for example, BIPOC youth have been highly involved in ways not reflected in media coverage. Take Executive Director of the US Youth Climate Strike Isra Hirsi, who earned a Brower Youth Award for her immense contribution to the climate movement. Her involvement in activism began when she noticed she was the only Black person, or person of color for that matter, in her school's environmentalism club, and vowed to bring intersectionality to the forefront of the climate movement, both locally and nationally.
In gun control advocacy, too, BIPOC youth have paved a path for other advocates to follow. A prominent example is X Gonzalez, a survivor of the Marjory Stoneman Douglas High School shooting in Florida that took the lives of 17 of their classmates and teachers. They delivered the rousing and quickly-viral "We Call BS" speech three days after the shooting, and in years since have organized the March for Our Lives gun control rally, founded Never Again MSD, and in 2021 starred in the documentary Us Kids. Cuban-American, non-binary, and queer, they have been attacked by politicians, slandered on social media, and dragged through the mud for their intersectional identities and advocacy, and yet, they continue to work to get stricter gun policies into and through Congress.
By wielding their rights to petition, speak, publish, and peacefully assemble, youth have made their mark on the world time and time again, advocating for future generations' lives. Many BIPOC, queer and trans youth advocates are placing a focus on intersectionality in their work, demanding that inclusive racial and gender justice be given a seat at the table in various fights, for it is communities of color and lower-income families disproportionately affected by climate change, Black veterans of the Vietnam War who faced immense racism while deployed, and gun violence at the hands of domestic abusers that leads to the death of a woman by her intimate partner every 16 hours. Thus, in order for a social issue to truly be furthered, it must consider and advocate for intersectional racial and gender justice.
For youth in 2022 and beyond, there are numerous issues to speak up about. The upcoming GSA Day for Racial Justice on February 25th provides a platform for youth to learn more about intersectional racial justice and how they can be a part of the change, whether it's hosting difficult conversations in local or state GSA meetings, creating art about activism, or attending meetings and workshops hosted on Instagram Live. Similarly important, it cements a day of appreciation and celebration of the centering of BIPOC, queer, and trans activists in social movements, and highlights the cruciality of intersectionality in all walks of life.
As Michel Foucault wrote, "Where there is power, there is resistance." And in youth, there is certainly unprecedented amounts of untapped power.