GSA Day for Racial Justice (#GSADay4RJ) is an annual day of action to mobilize for racial justice & celebrate multiple identities that you hold as LGBTQ+ youth. It is hosted by the National Youth Council.
GSA Day for Racial Justice is on Friday, February 19th, 2021!
Our theme this year for #GSADay4RJ is Police Free Schools and we call on GSAs and allies to discuss, envision and advocate for safe spaces where trans and queer youth can thrive and grow in their education.
Police Free Schools are spaces where all young people, especially trans and queer youth of color are able to exist, learn, grow, and are accommodated, without being policed for their race, sex, sexual orientation, gender expression, class, or ability status. They are spaces where all adults are educated on the ways in which youth are harmed by policing of any kind, and are accurately, consistently, and holistically trained in restorative and transformative justice methods to ensure support for, and engage students, as well as maintain a peaceful and supportive school campus community.
Take Action
1. Read what a youth member from our New Media Council has to say around their personal experiences with being policed in schools outside of police presence in Beyond the Police: Getting Policed in Schools.
2. Join the #GSADay4RJ Twitter Townhall @gsanetwork with members of the National Youth Council on Thursday, February 18th at 4:30pm (PST)/ 7:30pm (ET).
Check out our Twitter Toolkit to preview our questions and learn how to participate!
3. Join the Instagram Live @gsanetwork on Friday, February 19th at 4pm (PST)/ 7pm (ET), where we will have an open dialogue between our National Youth Council members. We invite everyone to join the conversation and share their thoughts!
Check out our IG Live Discussion Guide to prepare!
4. Encourage LGBTQ+ young people and allies in your school and community to get involved! Post about #GSADay4RJ on social media and discuss how you and your GSA can participate together. 
5. Download our Police Free Schools Discussion Guide to find activities and resources you can engage in with your GSA clubs to continue the conversation around racial justice beyond #GSADay4RJ.
6. Send your #GSADay4RJ questions to nationalyc@gsanetwork.org.
7. Follow GSA Network on Instagram, Twitter, and Facebook for updates!
Student Art Submissions
We requested art submissions from youth for #GSADay4RJ with the questions: What does Police Free Schools mean to you? How would/does it feel to have them in your school?
This is the response we got from students all over the nation!
Video by: Erilyn (she/hers):
Art piece by: Quinn (he/him)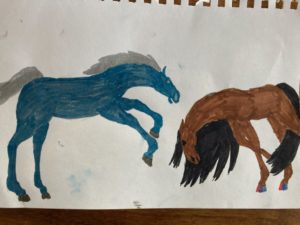 Poems:
---
Related Resources