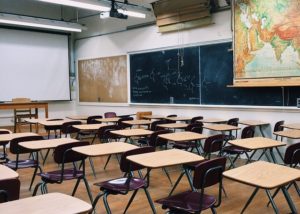 By Thomas C.
The question that I always asked myself during the first couple of years of high school was: "How did I end up here?" I was frustrated with the curriculum, the administration, and the school as an institution. I wanted to know what conditions led to the birth of my school, why it felt oppressive, and how it could be changed for the better. It took years to find answers.
My school was established on stolen Tongva land that was secured through colonial missionary projects, genocide, and nation-building. Just a few miles away stands a statue of colonizer Junípero Serra greeting passersby—all of whom are walking on that stolen land. Many of them are descendants of settlers who flocked to California for the Gold Rush, which brought on a huge non-Native population boom and forever enshrined California as not just the Golden State, but the state that nearly wiped out the most diverse Native population in the world. 
The numerous wars and land grabs that followed shaped my school into what it is today. But that historical legacy wasn't the only one to tarnish my high school experience. The school, and our country's education system more broadly, was also systematically designed for marginalized students to fail. What's wrong with modern education, and my school specifically, is rooted in the various effects of the Civil War, World War II, and the Cold War: school segregation, suburbanization, and the military industrial complex.  
No wonder my school felt oppressive—as if it wasn't made for me—and like it was in desperate need of change.
As a student, I observed the impacts of these historical roots: a visible decline in the Black and Latinx student population due to unaffordable housing costs in the area, as well as growing achievement gaps. Those gaps disproportionately affected low-income, ESL Latinx, and disabled students who are routinely pushed out of schools and come from historically under-resourced communities. Instead of receiving academic assistance or counseling, these vulnerable student populations were targeted for military recruitment. I listened to ambitious, institutionally-supported STEM students who dreamed of working at Boeing, Raytheon, and Lockhead Martin—companies with deep military ties—while ambitious creative students watched their visual and performing arts programs get defunded.
 As a queer student who was interested in a non-STEM field and struggled to ask for help because of an invisible disability, my high school didn't prepare me to make the connections between oppressive historical forces and our modern education system. The curriculum wasn't designed for people like me. I needed a political education outside of a traditional classroom and a desire to learn marginalized people's hxstory. Through GSA Network, I was introduced to prominent freedom fighters and revolutionary events I wasn't familiar with before. I also learned that the curriculum at my school was almost completely devoid of LGBTQ+ people of color and recognized that the erasure of our experiences in history directly translates to the contemporary erasure of our identities. 
A door opened, and independent research out of pure curiosity followed. My political education gave me tools to identify what was wrong with my school and fight for change, drawing on strategies used by some of the trans and queer movement leaders of color I'd learned about: Barbara Smith, José Sarria, Canyon Sam, and Beverly Little Thunder. I finally felt empowered and passionate about learning, and I enthusiastically pursued opportunities that helped me change the school. I wrote critical editorials in my school newspaper, became a board member for my school district to advocate for students, and became a leader in GSA club to provide a brave space for trans and queer students. Through it all, my focus was to make my school better fit "The People"—the students who are the most marginalized, whose narratives are not told, and whose struggles are not being addressed in the classroom. 
And this is what I want current students to know: If schools don't fit your interests, they can be hard to appreciate or thrive in. It is up to you to change them. Find a political education and pass it on. Critique the education you receive in school and make connections to real life. Involve yourself in extracurricular activities that you're passionate about. Fight to make classes more inclusive and liberatory in every way possible; after all, school should be of, by, and for The People.