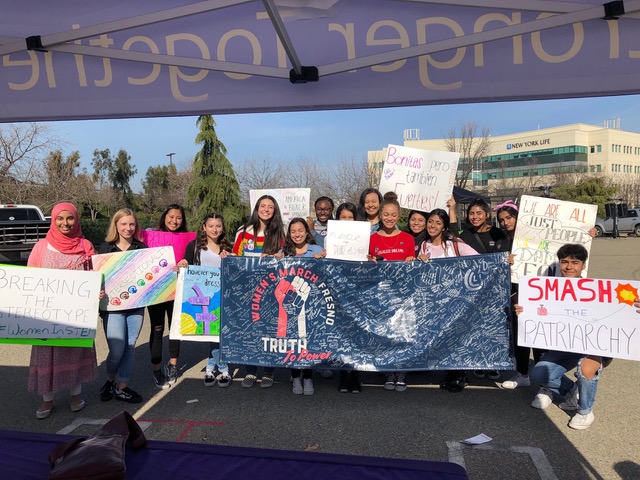 By Dominic Samaniego
Growing up in a conservative area like Fresno, the fifth largest city in California, becoming a young activist who focuses on LGBTQ+ issues, racial justice, voting, health, and women's rights had never crossed my mind. Throughout the years, I've had my fair share of interactions with conservative people with different beliefs than my own, including many who have been hostile toward marginalized people. Nevertheless, interactions with conservative people in Fresno have only fueled my passion for organizing and the wellbeing of LGBTQ+ youth. And when I think about how I came to this realization, one encounter in particular comes to mind: a contentious interaction at the 2019 Women's March. 
Last year, I volunteered to help lead the march, and as with any political event, I expected there to be opponents. In a conservative area like Fresno, it was no surprise when Trump supporters showed up in full force, driving by in their cars with "Make America Great Again" flags, honking, and shouting hateful things at us. They stood on every street corner to block our path and tried everything in their power to provoke us. They shoved cameras in our faces and shouted "Look at these feminists! They're pushing us! They're so aggressive!" or "Look at how angry and aggressive these radical feminists are!" The instigators were blind to the real purpose of the march. We were not there to have a group of "radical feminists" force their views onto anyone. The true purpose was to peacefully advocate for legislation and policies regarding women's rights and human rights—all while celebrating women of all colors and bodies. 
I remember feeling angry and oppressed as I peacefully made my way past the Trump supporters. Although I remained cool on the outside, I was raging on the inside. The encounter made me feel more invigorated to educate my community about the kinds of social justice issues that impact us. This was a crucial moment for me in my awakening as a youth organizer. After my experience at the Women's March, I was more prepared for these types of negative reactions and opinions when advocating for people in my community—especially LGBTQ+ young people. I've made it my priority to center education in my activism as a strategy to change minds and, most importantly, hearts. I have applied these lessons to the work I do with GSA Network as a club president and United Core leader. 
My experience at the 2019 Women's March proved to me that some of the biggest organizing lessons can come when you least expect them, and that anything negative can always be turned into a positive.