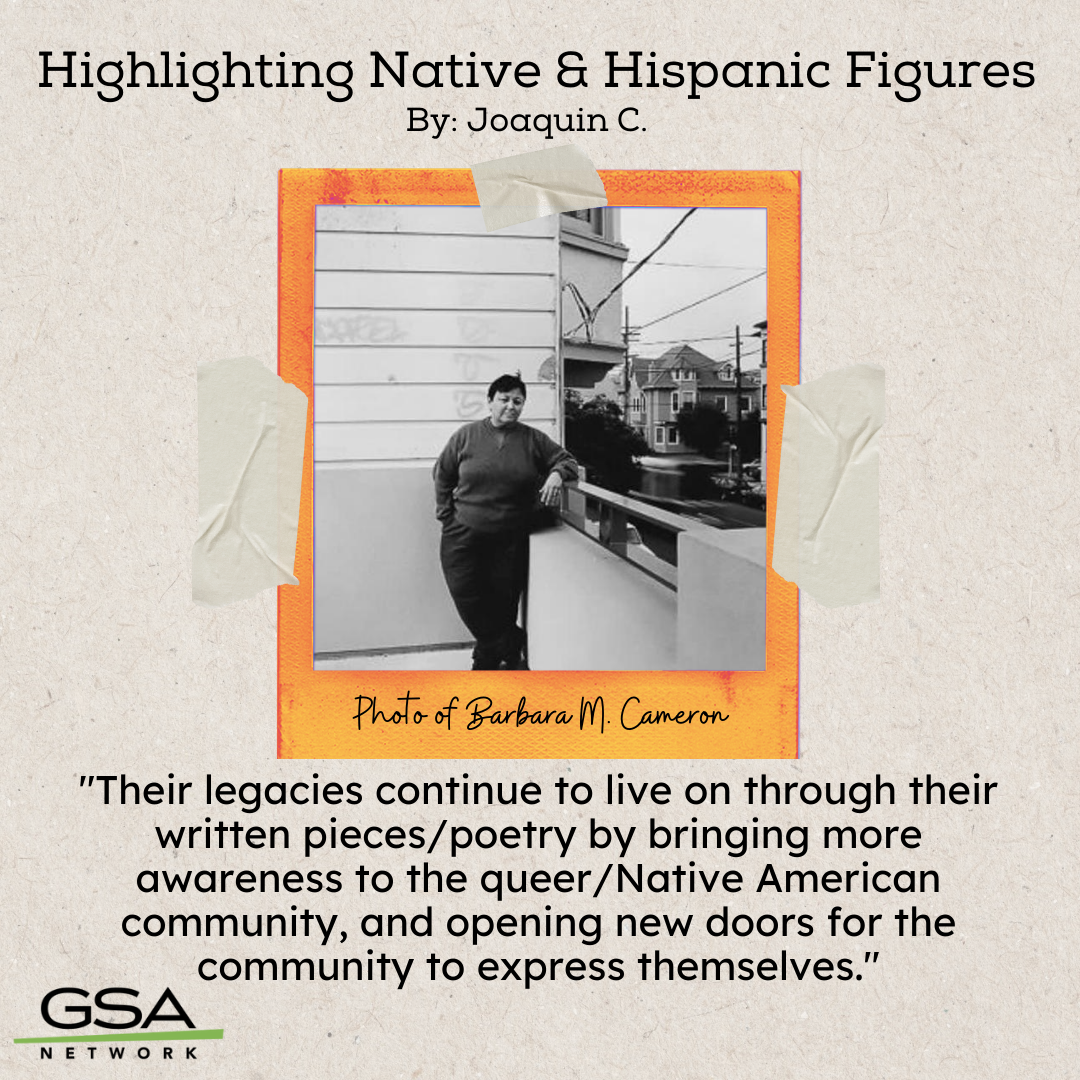 By Joaquin C.
This month (November) is Native American History month, while October was Hispanic Heritage Month. And although these two months celebrate different cultures on the surface, they both highlight historical figures that are descendants of Native North America. These figures have contributed so much, ranging from art and poetry about their communities and experiences as queer folk, to monumental work in activism.
In our education system, there are few chances to learn about historical figures, especially those in modern history who are of Native American descent, as we often erase their contributions to society. One leader that many have never heard of in their history books is Barbara May Cameron. Her leading activism in the queer and Native community is what makes her so important, specifically in her writing and organizing within San Fransisco. Without her, the establishment of GAI (Gay American Indians, 1975)-an organization that worked to raise awareness of queer Native Americans in activism, writing, arts, etc.- and the annual Pride Parade in SF wouldn't exist. Outside this organization, she also went on to become the vice president of the Alice B. Toklas LGBT Democratic Club, working towards awareness and rights for lesbians, especially those in the queer Native community. Aside from her organizational activism work for the Native American/queer community, Barbara has also contributed to her community through her writing and photography. One of her pieces that showcased her activism was a poetry collection of multiple Native lesbian writers called A Gathering Of Spirit. This was revolutionary to GAI and Barbara's collective work as it brought more awareness and normalized Two-Spirit/queer folks in the Native community. Another poetry collection written by Barbara- You Don't Seem Like an Indian from the Reservation– focused on topics of life as a Native American in an all-white community, the hardships of being both a POC and queer, and exploration of what it means to be Native in the United States. While Barbara May Cameron passed away in February 2002, other poets/writers continue to push for representation of Native Americans and the queer community, such as writer/poet Natalie Diaz. Similar to Cameron's pieces, Diaz's poem collections- "Postcolonial Love Poem" and "When my brother was an Aztec" – both talk about family dynamics, and expression of culture and being queer in the Native community. This type of creative writing around queer and Native experiences continues to open many doors for modern literature, though this can be traced back farther in the history of queer Native folks.
One of the most famous Native Latinx artists to share her queer experiences was Frida Kahlo, an Oaxacan woman (Zapotec tribe), who is well known for her paintings/art expressing much of her life and the world around her. Frida was alive fr0m 1907-1954, and while she wasn't out as bisexual to the entire community, she was known for having relationships/flings with other women. Aside from her relationship statuses, her portraits and other paintings expressed a questioning of gender/sexuality, and also topics around colonialism, class, and race.
Although the majority of these Native/Latinx people have passed, their legacies continue to live on through their written pieces/poetry by bringing more awareness to the queer/Native American community and opening new doors for the community to express themselves. Although laws and ideas are being processed to make the lives of queer and Native American folks better, it's clear that these artists have paved the way for change. With the variety of artistic expression from these folks and the many ways they contributed to activism/organization, we must learn from these folks of the past/present and continue to educate ourselves to grow in both arts and activism.