Living as our authentic selves is a journey all young people are on. No amount of legislation that targets trans and nonbinary young people from being themselves will change this.
The attack on transgender, gender nonconforming, and nonbinary youth is relentless and shows no signs that it will subside during the current legislative cycle. In just the past week, three states–Alabama, Florida, and Texas–have advanced or approved legislation, and increased destructive rhetoric, that specifically aims to criminalize gender diverse students and young people as well as the families and caregivers who support them.
"Genders & Sexualities Alliance Network strongly condemns homophobic and transphobic legislative efforts to discriminate against, bully, and stigmatize LGBTQ+ youth, their families, and teachers," said Geoffrey Winder, GSA Network's Co-Executive Director.  "While we know that these efforts won't succeed in erasing trans and queer youth, they will contribute to an increase in LGBTQ+ youth school pushout and further exacerbate the existing mental health crisis within our community."   
Last year, we saw lawmakers across 22 states set their sights on limiting the rights of transgender youth in schools. They presented nearly 80 bills that would restrict access to restrooms based on gender assigned at birth and from participating in physical education programs and sports based on their gender identity, denying many young people access to a core graduation requirement.  
"One thing we know that can increase the long-term outcomes for trans and nonbinary youth is affirming love and care. Trans youth who have the bravery to be themselves, with their families and the schools supporting them, should be applauded- not criminalized," said Juniperangélica Gia Loving, GSA Network's Deputy Director. "We urge all LGBTQ+ students to continue to meet and care for community, be creative in naming their clubs, and to continue to support each other and trans youth in particular."
State legislatures are now looking at how they can intensify their attacks in an attempt to erase the presence and the wins that trans youth have fought so hard to achieve. Last week, Alabama's House passed a bill that would make it a felony to treat transgender youth under the age of 19 with gender-affirming medical care. Arizona, Idaho, Ohio, Oklahoma, Tennessee, and Wisconsin are currently looking at similar bills, according to the American Civil Liberties Union. In Texas, the Governor went as far as to declare that providing gender-affirming care could be deemed as child abuse.
Trans and queer youth stand united, for we know our people existed before there were words used to describe us or laws to condemn us.  We have always had strong and resilient communities. Our people are no stranger to preserving through pandemics and direct institutional and personal attacks. Our strength is in our authenticity, belief in humanity, and love. We must continue to connect in community, create and share resources, and keep our vision towards a world free from violence. And continue to care for, support and protect trans youth. Our existence is the resistance. And in the words of Miss Major, "We're still f—ing here."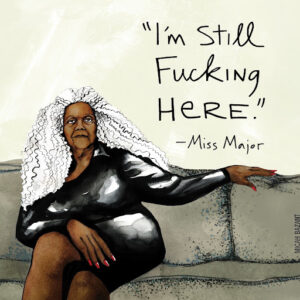 Artwork by Micah Bazant (they/them)