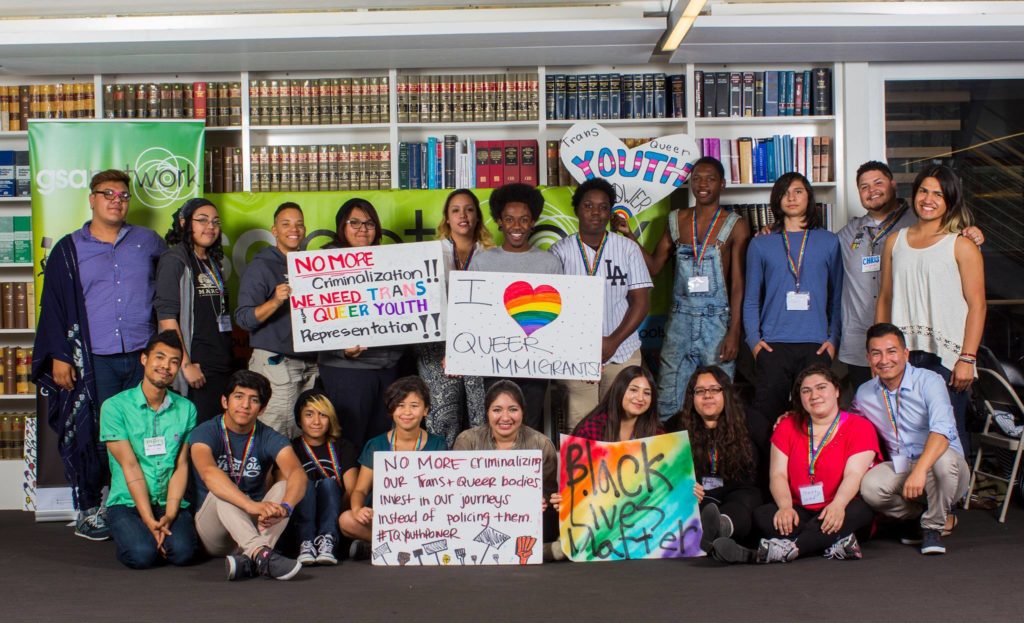 LGBTQ+ youth of color can only access a quality education and safe school environments if we disband school police departments that disproportionately target and apprehend students of color. As a multi-racial Black and Indigenous-led organization, GSA Network is convinced that removing all police presence in schools is a critical step to dismantling the school-to-prison pipeline.
With trans and queer youth of color overrepresented in the juvenile justice system, GSA Network is actively organizing to end the criminalization of their identities. In 2011, we launched our Racial and Economic Justice programs to begin organizing at the intersection of the issues that impact the ability of LGBTQ+ youth of color to receive a quality education. Since then, we have built deep coalitions with local grassroots organizations and national alliances focused on education justice—including the Advancement Project, Alliance for Educational Justice, and Dignity in Schools Campaign—to form a shared vision to end the school-to-prison pipeline. We understand that police in schools embody the policies and practices that push LGBTQ+ youth of color out of schools and into the criminal justice system. Locally, in California, we are founding members of Dignity in Schools Campaign – California and have rallied around our long-standing partner, Black Organizing Project, in their 10-year campaign to remove police presence from schools in Oakland. We did this not to promote an LGBTQ+ youth agenda, but because that is what the work for LGBTQ+ youth liberation demands of GSA Network.
Last night, Black Organizing Project scored a milestone victory as they secured the passing of the George Floyd Resolution to abolish the Oakland school police, a specialized police unit that was created specifically to monitor school campuses. Oakland was the only school district in Alameda County to have its own police force, the Oakland School Police Department (OSPD), and it was marred in controversy. In January 2011, Raheim Brown Jr. was shot and killed by the OSPD outside of Skyline High School. In response, Black Organizing Project launched a long-term campaign to disband the OSDP. We are inspired by their fight and overjoyed at their victory. 
The National Trans Youth Council, a project of GSA Network and Transgender Law Center, came together in 2018 to develop a Nine Point Platform and manifesto on Trans Youth Liberation. The Second Point calls for the Abolition of the police, abolition of borders and ICE, abolition of the current punishment-based justice system. Just three years ago, this point felt bold and transformative, though possibly far-fetched. Now we know it was simply ahead of its time. Trans youth of color and students across the country are aligned in their vision for true, lasting change in our society. 
Then and now, the moment demands LGBTQ+ youth actively enter and commit to the struggle for Police Free Schools. LGBTQ+ youth need counselors, nurses, psychologists, social workers and caring welcoming adults more than ever. We must demand Police Free Schools and a reinvestment in the services that will actually support LGBTQ+ youth. GSA Network will work to develop tools and resources for trans and queer youth of color to contextualize and understand the concept of Police Free Schools, and to follow their lead as they re-imagine safe and welcoming school environments that are built on a desire to see youth of color become the next generation of leaders.