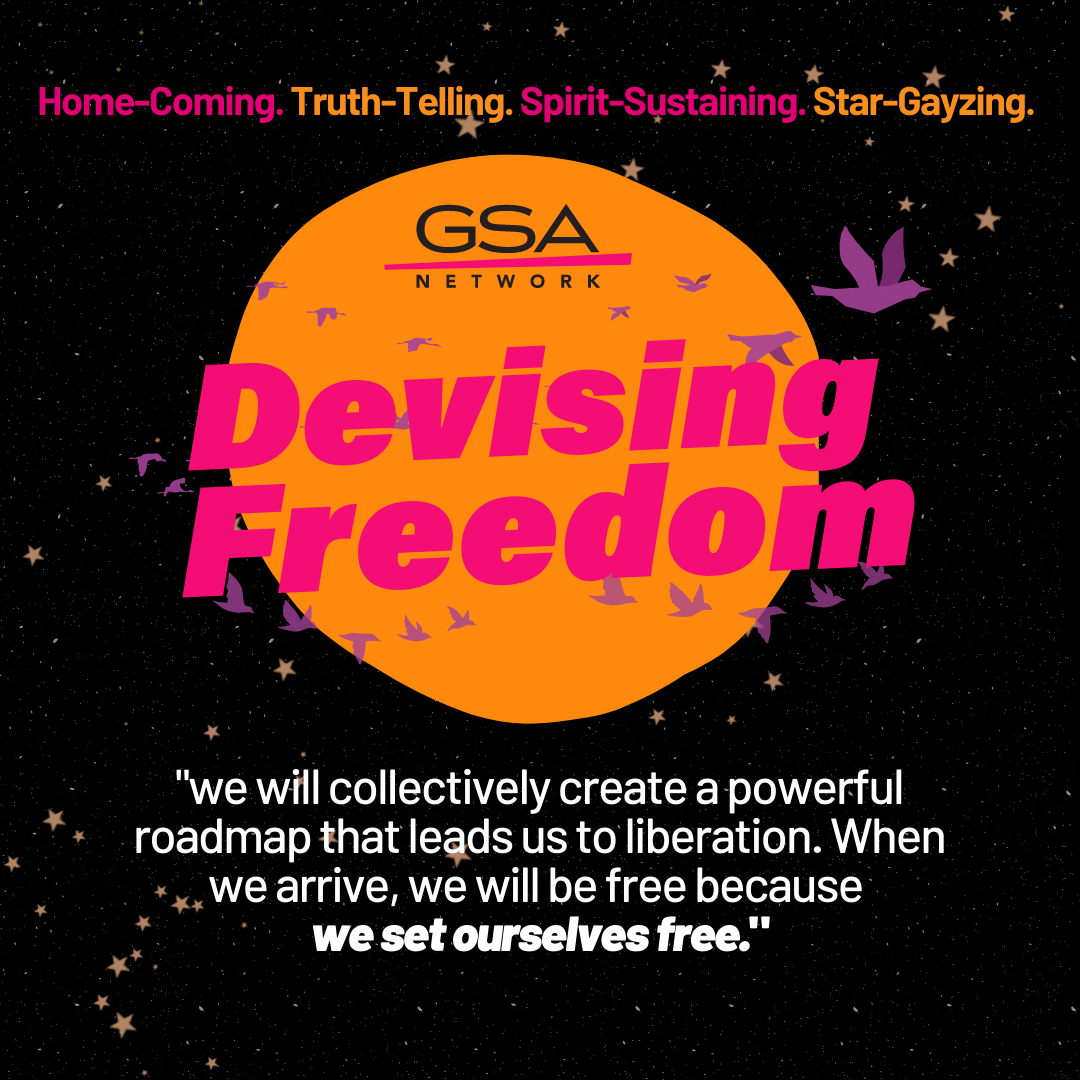 Trans and nonbinary youth have always chosen freedom. In this moment when state laws try to erase trans and queer people, we have no choice but to keep choosing freedom. BOLDLY.
At GSA Network, we are working to provide them with a compass to transform themselves and change their world. This past spring, we launched a national strategy called Devising Freedom to combat the harmful effects of anti-trans and anti-queer legislation and executive orders that have emerged in at least 22 states across the country.
These acts continue to target young people in their schools, their homes, and in places where they receive health care and support. Devising Freedom is rooted in the intergenerational lessons and practices that have been shaped by those before us and those who stand with us now. Our national strategy is comprised of four pillars that youth leaders and accomplices can lean into for a comprehensive and balanced approach to community organizing:
Homecoming: Home is a starting place.
Our hope is to provide trans and queer youth with a political home where they will gain an understanding of the systems of oppression that are in place within educational institutions; learn about the history of our movements and how it informs our present; and connect with community everywhere. We want to build a base of young people that can fuel a movement for social change, leveraging the collective power of thousands of trans and queer young people in the United States who connect with us through our network.
Truth-telling: Our story is our truth.
We are training young people to tell their story and share their experiences as a powerful antidote to the harmful narratives that are created about them by those who seek to deny trans youth their right to live authentically. We all know that state laws won't stop trans and nonbinary youth from existing. It is our belief that by empowering them to tell their stories–while providing them with necessary care and support–we can transform public perception and build widespread support for trans and nonbinary young people no matter where they live.
Spirit-Sustaining: Healing and care are vital.
The success of a movement that is truly led by trans and queer young people will depend on our ability to sustain our spirits and bodies for a long-haul fight. We must prioritize balance and sustainability, while strengthening our practice in healing justice to ensure that we are able to survive the persistent legislative attacks and to nurture the spiritual growth of all trans and queer people. Caring for our spirit is not negotiable.
Star-gayzing: Envision ourselves living in freedom.
To devise freedom, we will take time to practice connecting our visions of freedom to everyday living practice. What freedom looks and feels like will flow from the minds and hearts of trans and nonbinary young people who have built a political home within GSA Network and who are living and telling their truth. We will embrace their vision as North Stars that will carry us forward in our liberatory work.
Trans and queer young people, in partnership with GSA Network and our grassroots partners across the country, will work together to transform this country into a place that is liveable for people of all genders and races. Even as we continue to experience a global pandemic, we will collectively create a powerful roadmap that leads us to liberation. When we arrive, we will be free because we set ourselves free.
---
Keep up with our Devising Freedom national strategy news and updates here.