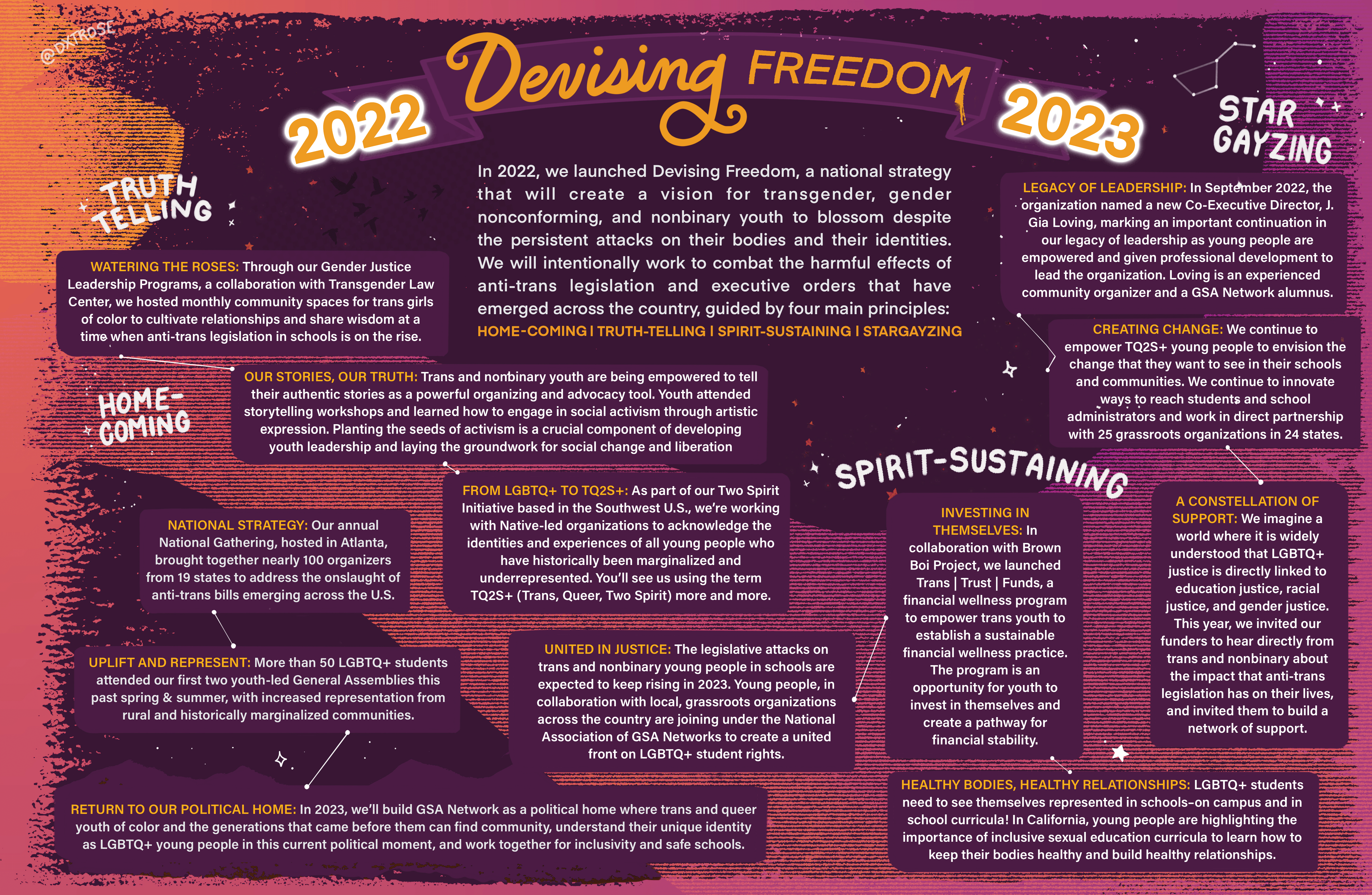 In 2022, we launched Devising Freedom, a national strategy that will create a vision for transgender, gender nonconforming, and nonbinary youth to blossom despite the persistent attacks on their bodies and their identities. We will intentionally work to combat the harmful effects of anti-trans legislation and executive orders that have emerged across the country, guided by four main principles: 
Home-coming, Truth-telling, Spirit-sustaining, Stargayzing
We are so proud of the collective work our staff and youth leaders have accomplished this year and the momentum we'll be bringing into 2023. Here are our top achievements this year guided by our principles and a look beyond into 2023:
Home-coming:
National Strategy.

Our annual National Gathering, hosted in Atlanta, brought together nearly 100 organizers from 19 states to address the onslaught of anti-trans bills emerging across the U.S.

  This was our first in-person, national convening since the start of the pandemic and an incredible opportunity to reconnect in person with our national partners and brainstorm together.

Uplift and Represent.

We kick-started virtual youth-led General Assemblies to connect trans and queer students to one another and our youth leadership and organizing programs.

More than 50 students attended our first two youth-led General Assemblies this past spring & summer, with increased representation from rural and historically marginalized communities.



Return to Our Political Home.

In 2023, we'll build GSA Network as a political home where trans and queer youth of color–and generations that came before them–can find community, understand their unique identity as LGBTQ+ young people in this current political moment, and work together for inclusivity and safe schools.
Truth-telling:
Our Stories, Our TRUTH.

Trans and nonbinary youth are empowered to tell their authentic stories as a powerful organizing and advocacy tool. Youth attended storytelling workshops and learned how to engage in social activism through artistic expression. Planting the seeds of activism is a crucial component of developing youth leadership and laying the groundwork for social change and liberation.



Watering The Roses. Through our Gender Justice Leadership Programs– a collaboration with Transgender Law Center- we hosted monthly community spaces for trans girls of color to cultivate relationships and share wisdom with one another at a time when anti-trans legislation in schools is on the rise.
From LGBTQ+ to TQ2S+.

We are decolonizing our curricula and centering more expansive and culturally relevant vocabulary at GSA Network

. As part of our Two-Spirit Initiative based in the Southwest U.S., we're working with Native-led organizations to acknowledge the identities and experiences of all young people who have historically been marginalized and underrepresented. You'll see us using the term TQ2S+ (Trans, Queer, Two-Spirit) more and more.

Spirit-sustaining:
Investing in Themselves.

In collaboration with

the

Brown Boi Project, we launched Trans | Trust | Funds, a financial wellness program to empower trans youth to establish a sustainable financial wellness practice. The program is an opportunity for youth to invest in themselves

, unpack the messages that they have received about money,

and create a pathway for financial stability.



United in Justice.

The legislative attacks on trans and nonbinary young people in schools are expected to keep rising in 2023. Young people, in collaboration with local, grassroots organizations across the country are joining under the National Association of GSA Networks to create a united front on LGBTQ+ student rights.

Youth in states like Florida, South Carolina, and New Mexico are calling attention to harmful policies and practices in education.



Healthy Bodies, Healthy Relationships.

LGBTQ+ students need to see themselves represented in schools–on campus and in school curricula! In California, young people are highlighting the importance of inclusive sexual education curricula to learn how to keep their bodies healthy and build healthy relationships, inclusive of all body types, genders and sexualities. 
Star-gayzing:

Legacy of Leadership. In September 2022, the organization named a new Co-Executive Director, J. Gia Loving, marking an important continuation in our legacy of leadership as young people are empowered and given professional development to lead the organization. Loving is an experienced community organizer and a GSA Network alumnus who built out and grew our Gender Justice Leadership Programs.

Creating Change.

We continue to empower TQ2S+ young people to envision the change that they want to see in their schools and communities

 

and train them to become leaders for that change. We continue to

innovate ways to reach students and school administrators,

connect them to our growing network,

and work in direct partnership with 25 grassroots organizations in 24 states.



A Constellation of Support.

We imagine a world where it is widely understood that LGBTQ+ justice is directly linked to education justice, racial justice, and gender justice. This year, we invited our funders to hear directly from trans and nonbinary youth about the impact that anti-trans legislation has on their lives and invited them

to invest in building

a network of support

that extends beyond LGBTQ+ issues

.
Beyond the Continuum- 2023
Our new program, Star School, is set to launch in 2023 and will act as a new political home to house these 4 principles and beyond for TQ2S+ youth to build safety, support, and a holistic community in the midst of increasingly hostile legislation and a soon-to-be upcoming election cycle.