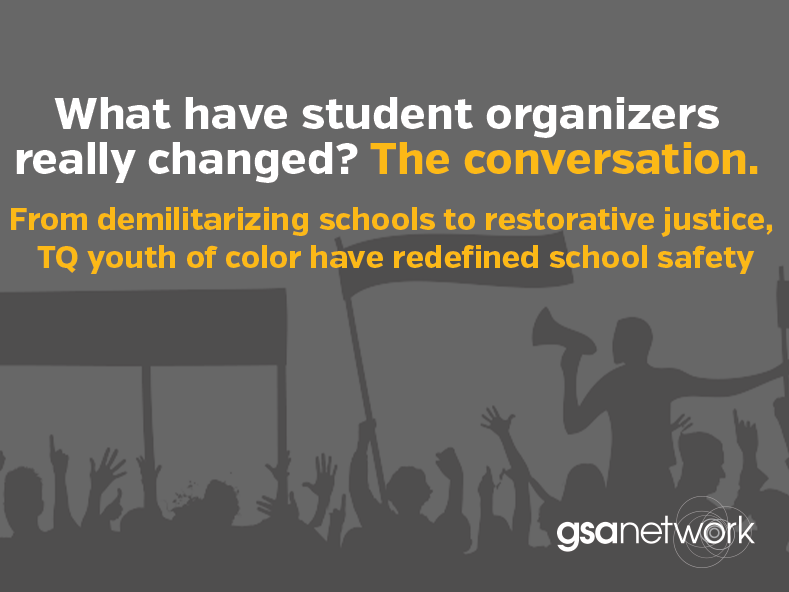 From demilitarizing schools to restorative justice, TQ youth of color have redefined school safety
Student survivors shocked a nation of people accustomed to mass shooting by refusing to remain silent after the tragic shooting at Marjory Stoneman Douglas and instead birthed a new, national youth-led movement for gun control.
The March for Our Lives, as it later became known, earned its place in history as a remarkable example of the power and ability of youth voice to spur civic engagement, shift narratives, and change public policy. It's clear that this movement impacted voter turnout in the midterm elections as well as state and federal legislation, and bolstered existing youth movements that were empowered to see students like them reflected in the mainstream media.
Over the past year, we have witnessed countless trans and queer youth of color–many of whom have been organizing at the intersection of racial and gender justice for decades–become reinvigorated and re-energized. They have leveraged the current moment to continue to shape the national conversation around school safety and advocate against police presence in schools, a practice that disproportionately disrupts learning environments for students of color. These young people know first hand that militarizing school safety does not equal safe schools, especially for trans and queer youth of color.
We have also seen a strong resurgence in GSA organizing to improve school climates. In the past year alone, GSA club registrations grew in 37 states via our online platform and overall nearly doubled since the previous year. While we can't attribute this growth entirely to youth organizing efforts since the shooting in Parkland, Florida, studies continue to demonstrate the impact GSA clubs have on student safety. We have heard from GSA club members that the heightened focus on school safety provided a platform for them to lead those conversations in their individual schools or local communities.
Most importantly, the past year has served as a necessary reminder to trans and queer youth organizers that they have tremendous power. They know that their safety is directly linked to oppression they face within educational institutions. For trans and queer youth of color, the fight for safe schools is also a fight for freedom and liberation. It is a fight for more counselors and social workers instead of cops in schools. It is a fight for restorative justice in place of harsh disciplinary practices. And it is a fight for the ability to live authentically as themselves and thrive free from criminalization of their race or policing of their gender identity.