By Rev. Rhina Ramos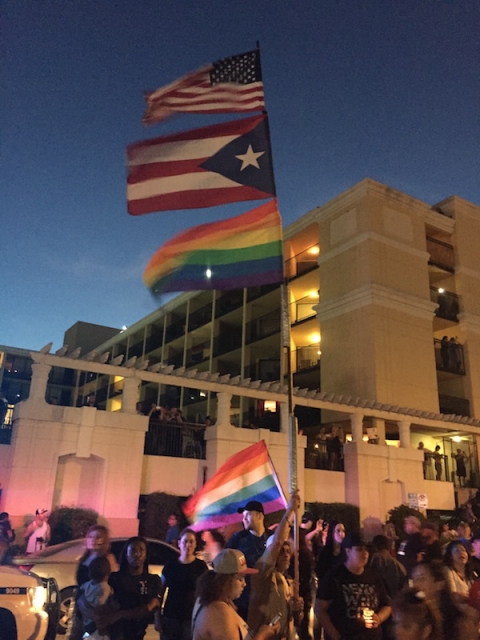 My day last Saturday started at Windermere Union Church, UCC. There is no UCC Spanish-speaking congregation that is open and affirming here in South Florida, but Pastor Barton leads an open and affirming UCC congregation, and I was invited to attend by two puertorriqueños, Marcelino and Nancy, who are members of this church. They are two anonymous heroes who have been responding to the needs of affected families since day one. They are dedicated and have been running non-stop, making sure families are supported financially and spirituality. They are also two of the founders of SomosOrlando.org, a fundraising effort that will ensure the support for the long-lasting effects of this tragedy. I gave their representative, Zoe Colón, our offering for a total of $181. Zoe was very happy as she said this was the first offering they received as they have just started their fundraising efforts. Marcelino, Nancy and Pastor Barton need our prayers. They feel the need for a ministry in Orlando similarly to our Ministerio Latino in Oakland.
Later in the day, I was able to get a shift at the central stadium where faith leaders had been called to support families, and I was able to pastor two families. The first family was a group of seven people including the sister, cousins, and aunts of one of the young lives perished in Pulse. Holding space for their tears, and at times, for their laughter when they remembered their dear brother, cousin and nephew was for me humbling, and filled me with the understanding of living out my calling.
Then, I provided pastoral counseling to the sister of another young person who died along with his partner at Pulse. She had arrived from Puerto Rico thanks to JetBlue, and had been able to be at her brother's funeral. When I asked her, "What are you going to remember about your brother?" she said "Everything! His voice, his texts, the way he used to tease me and invent nicknames for me. The way he was a loving uncle to my four children." She cursed at one point, letting out some anger for her pain, and I reassured her that this was okay, and that she could feel free to let anger come out. I prayed with her holding her hands as she cried quietly.
At the end of the day, I attended the community vigil. Hundreds were there. Candles lit everywhere. Signs and shirts naming the young people that died that tragic Sunday a week ago. I wore my stole so that if needed people could approach me. I prayed with a family who had lost a young 24-year-old woman. I sat listening to her aunt telling me about how her niece left behind two small children including a 3-month-old baby. I continued walking through the people, and I approached a young woman who was weeping. I asked her if she wanted me to pray, and she said "no," but then opened her arms for a hug. I held her while she cried.
The need is greater than any one person can fill, but we all can do a piece, and people are so grateful for that.
Watch members of Ministerio Latino in Oakland, CA read GSA Network's bilingual statement on Pulse Orlando, here:
Rhina Ramos is the Director of California Programs at GSA Network. She is also an ordained minister and founder of the first Latino Immigrant Open and Affirming LGBTQ UCC congregation of Northern California, Ministerio Latino in Oakland, California. Trans and queer community leaders in Orlando asked Rhina to travel there last weekend to help community members process their grief and anger, as well as help, create a space for peace and understanding. Below is her account of her time in Orlando.