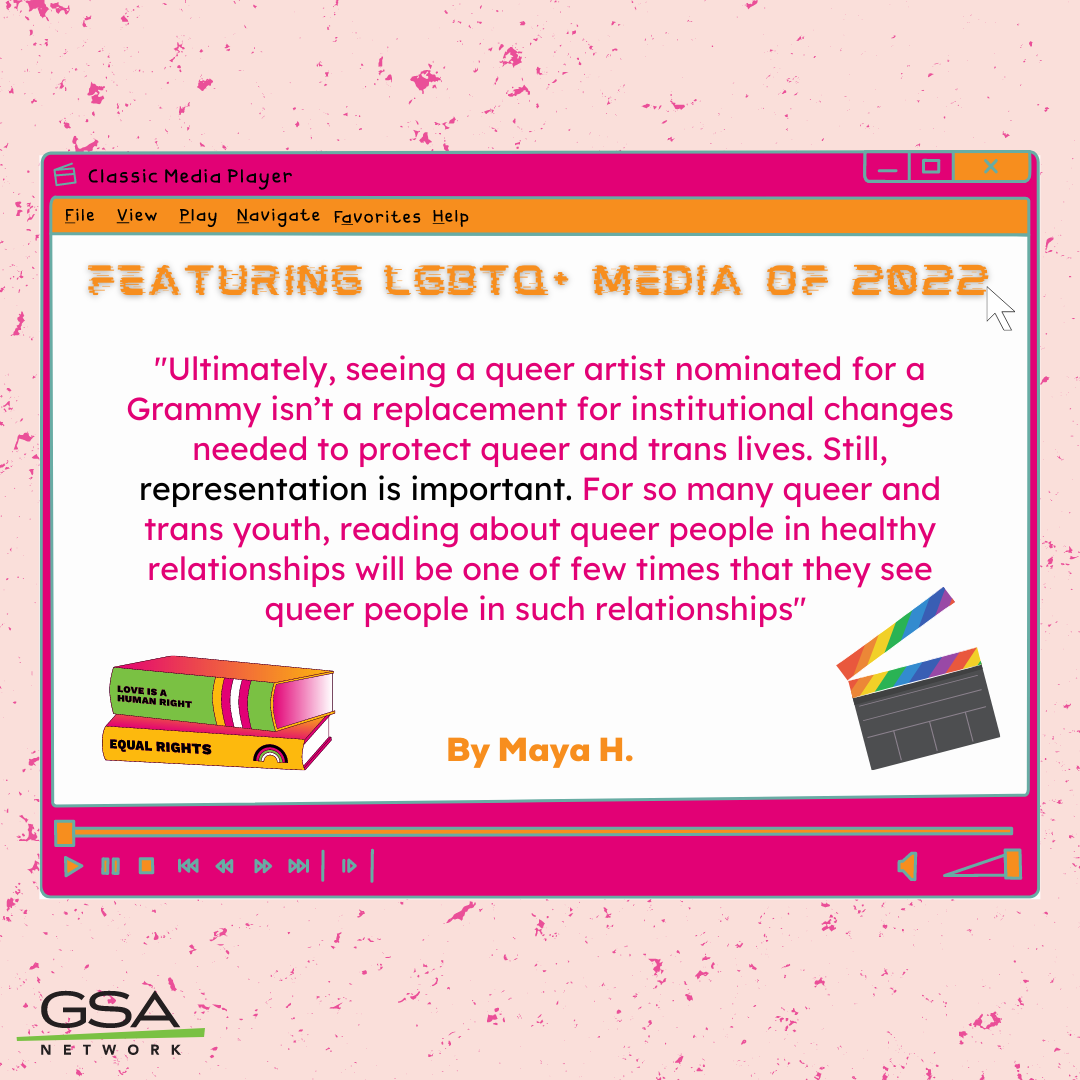 By Maya H.
When it comes to entertainment, 2021 was a year for the books for many reasons, one of which being all the revolutionary queer media created and released. From Lil Nas X becoming the most streamed male rapper on Spotify with the release of his album Montero to the wildly popular reception of the young adult novel One Last Stop by Casey McQuiston, numerous records were broken, new audiences found, and media spaces dominated. 
2022 is set to be an equally, if not more successful, year for queer and trans artists, writers, musicians, and filmmakers, with new and veteran creatives releasing work that demands LGBTQ+ people see rightful representation in creative spaces.
For book lovers, the next 12 months should be an exciting time to shuffle through pages. One of the most highly anticipated young adult novels of the year, Count Your Lucky Stars, is a sapphic romance novel by Alexandria Bellefleur that follows the chance encounter–and ensuing communication–between two best friends who fell out a decade prior. Margaret and Olivia grew up together, and for a brief time were more than friends. And then, they fell out, leaving Margaret with a promise to never "do relationships" again. When Margaret runs into Olivia, they are both confronted with a decade's worth of unconfronted emotions and vulnerabilities. Count Your Lucky Stars ends a trilogy of romance books–including queer novel Written in the Stars–by Bellefleur, and has received rave reviews from early readers and critics alike for its discussion and representation of queer women who are both imperfect and lovable. 
Nona the Ninth, the highly anticipated sequel to Gideon the Ninth and Harrow the Ninth, will also hit bookshelves this year. Written by Tamsyn Muir, the Locked Tomb series is set in the darkly magical land of the Ninth House. Though a blurb is not yet available for Nona the Ninth, it is to be a continuation of the dark and magical world of its prequels, starring sapphic cavalier Gideon and necromancer Harrowhark. With two strong women protagonists whose youth, femininity, and queerness force them to overcome additional barriers as they try to save their kingdom, the series has become a fan favorite for readers of all ages, genders, and sexualities.
Movie theatres and streaming services will be gaining and featuring numerous films and documentaries starring queer and trans stories this year as well. On the documentary front, Maurice Hines: Bring Them Back will make its US streaming and radio debut in February 2022, and follows the life of the gay entertainer, and specifically, the struggles and joys of being out his entire career and being a gay adoptive parent when it was largely illegal in the US. I Wanna Dance With Somebody, a Whitney Houston biopic, is set to be released on the 23rd of December, and will closely follow her life and include her romantic relationship with her close friend and personal assistant. On the comedic movie front, Bros will hit theaters in August and break a record from the get-go: it has the first all-LGBTQ+ cast in a movie from a major studio. Trailers and more information about the plot have yet to be released, but the cast list includes favorites such as Bowen Yang, Peter Kim, and Billy Eichner.
In the music industry, the Grammys are a chance for artists to be recognized for their hits in front of millions of at-home watchers. Though postponed this year for COVID safety reasons, queer artists are nominated across multiple categories, with Lil Nas X dominating: his single "Call Me By Your Name" is up for Record of the Year, Best Music Video, and Song of the Year, his album Montero is nominated for Album of the Year, and his single "Industry Baby," featuring Jack Harlow, is nominated for Best Melodic Rap Performance.
LGBTQ+ singer Halsey's latest album, If I Can't Have Love, I Want Power, earned a nod in the Best Alternative Music Album category. Poet and artist Arlo Parks' debut album Collapsed in Sunbeams is nominated for the same category, and Parks herself is nominated for Best New Artist. St.Vincent's Daddy's Home album is similarly nominated for Best Alternative Music Album.
Ultimately, seeing a queer artist nominated for a Grammy isn't a replacement for institutional changes needed to protect queer and trans lives. Still, representation is important. For so many queer and trans youth, reading about queer people in healthy relationships will be one of few times that they see queer people in such relationships due to the demonization and over-dramatization of queer and trans people and couples in the media. For others, movies starring professionally successful queer adults can act as a blueprint for their lives if they lack older queer and trans role models. Popular music that recognizes and celebrates the experiences of the queer and trans community can help destigmatize queerness and expose those who haven't interacted with the LGBTQ+ community to opportunities to learn about the community in a way that isn't boring, depressing, or clinical, and instead shows the multifaceted talent and experiences of queer and trans people. 
Representation is even more important when it comes to intersectional queer and trans artists. Halsey, for instance, stands not just as a representation of a queer person, but also as an interracial and young person who has been open about her struggle with chronic illness. Lil Nas X, too, provides validation for queer and trans youth as well as Black youth, both communities he has spoken on and worked to uplift simultaneously. Seeing such representation of proudly intersectional people–both fictional and not–can make all the difference to youth who have never before seen one, much less more than one, of their identities validated on such a large scale.
2022 will likely be a year of adjustment and testing limits. As we learn how to set limits and enjoy as much of the next year as possible, media–especially queer media–can be a place of relaxation and education, and this trend is sure to continue in the new year.