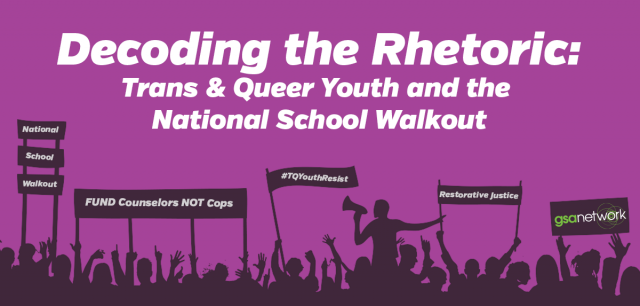 By Cathy C
It's been one month since the Marjory Stoneman Douglas High School shooting in Parkland, Florida.  Four years and two months since Sandy Hook, and nearly 19 years since Columbine. We know that in the wake of campus shootings, collectively we mourn those lost but also hope to find some way of "fixing" the problem.
The US leads the world when it comes to school shootings, underfunding education, limited and/or overpriced healthcare, denying its history of racism… you get the point. The problem isn't a simply a matter of controlling access to guns, increasing metal detectors, or more funding for campus policing. It's not even about arming teachers. In fact, all of these "fixes" typically mean harsher punishments, stricter laws, and increased violence against Black and Brown, trans and queer communities.
Decoding the rhetoric
As folks are rushing to define the one issue that keeps making school shootings possible, there are a few pieces of rhetoric that have made it into the news cycle after each mass shooting on a school campus.
Increase funding for school resource officers and campus police
Students at Manatee County Schools in Florida started the week with 35 new law enforcement officers – each elementary school and high school received increased policing. 
Following the shootings at Columbine High School in 1999, new policies and practices were implemented under the guise of "making schools safer." Zero Tolerance, Security Resource Officers (SRO), and metal detectors became a common narrative in schools, particularly in heavily populated areas and schools that serve primarily black and brown students, even though Columbine and the school shootings leading up to it were largely in less populated and predominantly white areas. And while there was no evidence of these tactics actually improving school safety, there was a rise and in the rates of school pushout, disproportionately impacting black and brown youth, trans, queer, and GNC youth, undocumented youth, and youth with disabilities.
An increase in police or SRO presence in schools does not improve school safety. Instead, it has proven to directly increase school pushout. Research has shown that schools with an SRO have nearly five times the rate of arrests for disorderly conduct as schools without an SRO. In Los Angeles Unified School District (LAUSD), the #StudentsNotSuspects campaign is fighting to end random metal detector searches in schools. The top confiscated item found during random searches are Sharpies. "In the 2013-2014 and 2014-2015 school years, random searches turned up zero guns and instead 1566 school supplies were confiscated."
In 2016, LAUSD, the country's largest school district, officials allocated $60 million to the LA School Police Department–a separate police department from the LAPD, representing the 5th largest Police Department in the county–compared to the less than $8 million that they invested in restorative justice practices. The criminalization and policing of students has demonstrated time and time again that it is not the solution. Students need restorative practices and schoolwide positive behavior intervention and support (SWPBIS).
Arm teachers and school staff to protect students when a shooting occurs
"The Florida law calls for other school employees — such as librarians and coaches — to be armed instead. They also rebranded it as a 'school guardianship' program." — (vox.com)
And will black, brown, trans and queer students be safer if school employees are armed? Will Black and Brown staff members receive the same treatment as their white peers? And if they do carry a weapon, what other dangers are they facing because of well-researched bias against our communities? Probably not enough to take a bonus from the president or make up for the continued underfunding of our schools. Finally, many teachers are taking issue with the suggestion that along with educating students, paying for school supplies out of their own pockets, and seeing an ever-widening gap in access to mental health supports for students, that they should now also add another role – as "school guardians" to their plate.
Youth Organizing for Safety and Justice
"We can imagine the pain and suffering that the youth and families in Newtown, CT are experiencing. As youth growing up on some of America's deadliest streets, we are all too familiar with gun violence and its impacts… No one wants the violence to stop more than we do. But we have also seen how attempts to build public safety with security systems, armed police and prisons have failed. We want college prep, not prison prep" — (Statement by Youth of Color on School Safety and Gun Violence in America, following the 2012 shooting at Sandy Hook Elementary)
As we search for solutions that will make schools safe for all students, we have to turn to those youth and organizations who have been fighting these issues, who are actively engaged in work to combat the real, everyday violence that students experience at school, including policing and criminalization. GSA Network has worked in collaboration with racial, gender and educational justice organizations across the country specifically to combat school pushout, fight for restorative practices, and support education justice youth organizing.
From Sandy Hook to Ferguson and now Parkland, the concept of school safety requires a focus back on the young people that populate our schools. And while some call for an increase in police presence to provide safety, student organizers are pushed out for creating a distraction in the classroom. SROs, metal detectors, and an ever-increasing surveillance of black, brown, trans, queer bodies are the greatest distraction for students who are trying to get an education and build better futures for all of us.