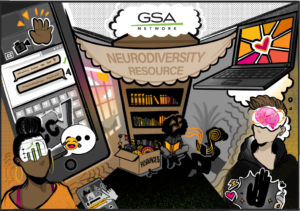 At the start of the pandemic and through the 2020-21 school year, GSA Network's Youth Organizing staff had to pivot and embarked on a crash course in online meetings and facilitation. In the winter of 2020, three of our core youth member leaders who identify as neurodivergent gave us incredibly helpful feedback to deepen our online accessibility practices and encouraged us to study disability justice and neurodiversity. Through this partnership, we have begun to incorporate better accessibility practices into our organizational norms, templates, and standard guidelines. 
Even as schools return in-person, we know that GSAs and youth programs still find online meetings and platforms useful for increasing access to community spaces.
These resources were made possible through our partnership with youth leaders, the studying and knowledge sharing of Youth Organizing team members, and trying on new guidelines to make our space more accessible.
Below, we share practices that we have implemented across our organization and we strongly encourage GSA clubs and youth organizations to adopt these practices and consider how your online spaces can be more accessible. Feel free to also share your practices with us at info@gsanetwork.org! We are committed to continuing to learn and grow with you on this journey. 
Resources: