This resource was created in collaboration with interACT. Find out more at: interactadvocates.org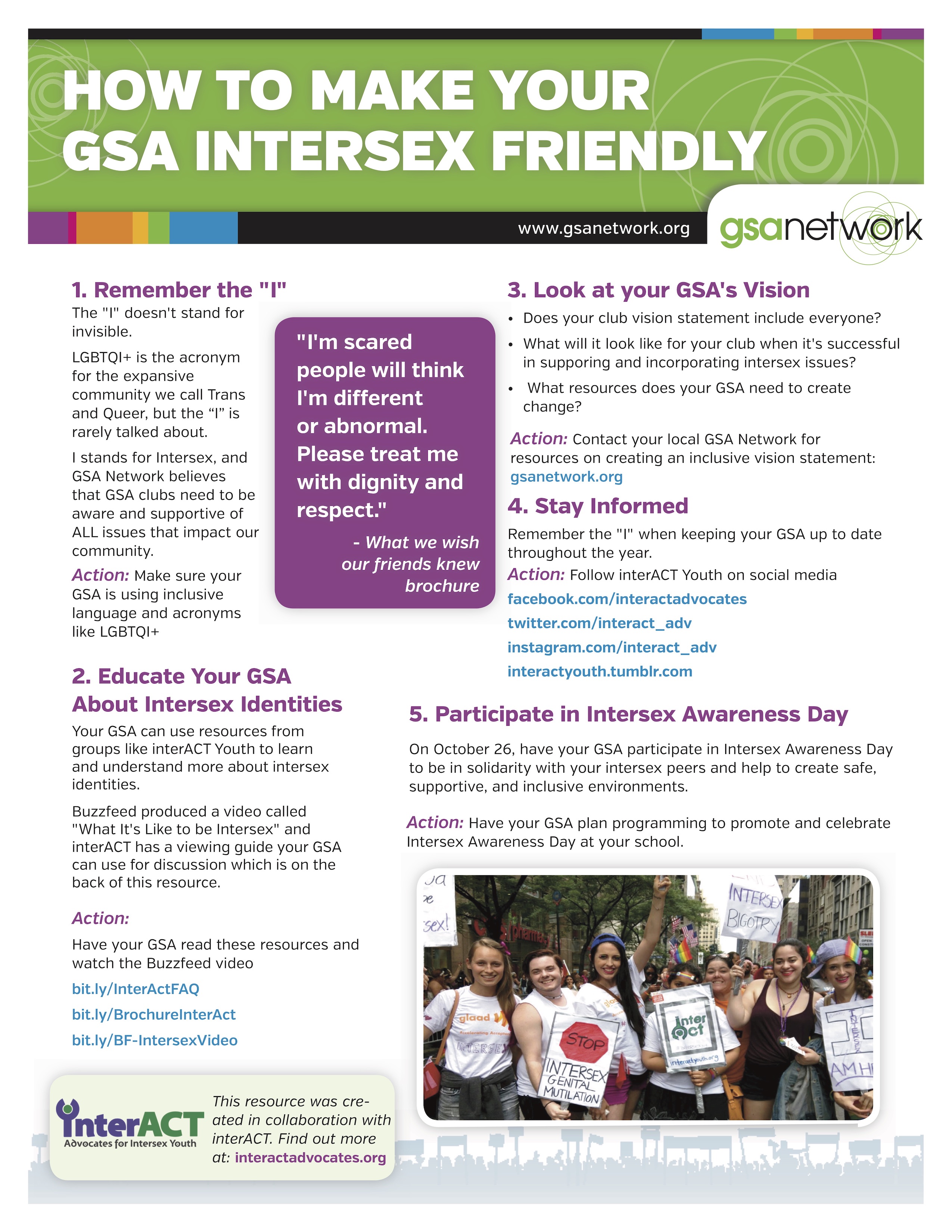 1. Remember the "I"
The "I" doesn't stand for invisible. LGBTQI+ is the acronym for the expansive community we call Trans and Queer, but the "I" is rarely talked about. I stands for Intersex, and GSA Network believes that GSA clubs need to be aware and supportive of ALL issues that impact our community.
Action: Make sure your GSA is using inclusive language and acronyms like LGBTQI+
2. Educate Your GSA About Intersex Identities
Your GSA can use resources from groups like interACT to learn and understand more about intersex identities. Buzzfeed produced a video called "What It's Like to be Intersex" and interACT has an informative brochure and FAQ your GSA can use to start a discussion.
Action: Have your GSA check out these resources and watch the Buzzfeed video
3. Look at your GSA's Vision
Does your club vision statement include everyone?
What will it look like for your club when it's successful in supporting and incorporating intersex issues?
What resources does your GSA need to create change?
Action: Work together with your GSA to collectively brainstorm ways you can create an inclusive environment and vision statement.
4. Stay Informed
Remember the "I" when keeping your GSA up to date throughout the year.
Action: Follow interACT on social media:
5. Participate in Intersex Awareness Day
On October 26, have your GSA participate in Intersex Awareness Day to be in solidarity with your intersex peers and help to create safe, supportive, and inclusive environments.
Action: Have your GSA plan programming to promote and celebrate Intersex Awareness Day at your school.
Related Resources: