By Cathy Chu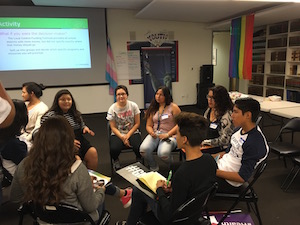 Last Saturday, April 30, GSA Network youth wrapped up the third and final GSA Advocacy & Youth Leadership Academy (GAYLA) of 2016 in Los Angeles. GSA Network Youth Trainers Diana and Corey led many of the day's sessions, and facilitated icebreakers and energizers between sessions.
The day began with a student-led training on the Local Control Funding Formula (LCFF), a statewide California policy that aimed at addressing historical disparities in education funding by supplanting the use of property tax as a way to decide how much money schools get. GAYLA participants then got together after the informative part of the session to talk about how LCFF impacts them as students and what they could do with additional funding to make their schools more supportive and safe spaces for trans and queer students.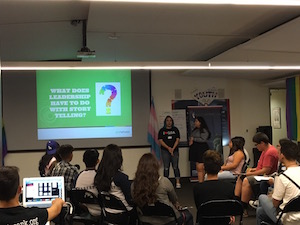 Youth leaders also spent a session exploring storytelling as an act of leadership and a tool for activism. Sitting in a circle with everyone, Diana and Corey lead their peers in sharing personal stories and figuring out how youth activists can appeal to heads and hearts as they fight to make their spaces more inclusive.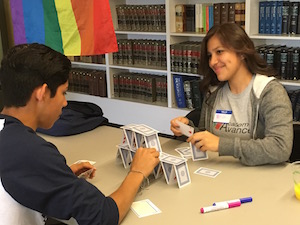 The second half of the day was dedicated to specific pieces of legislation. Youth activist and Trans Youth Justice Organizer Juniper Cordova-Goff led a session on AB 1266, or the School Success and Opportunity Act, to let GAYLA participants know about the rights of trans students and talk about how to improve implementation. Inspired by the presentation and a recent campaign win at Santee Educational Complex to designate a multi-stall gender-neutral bathroom, students started talking about advocating for gender-neutral bathrooms in their schools.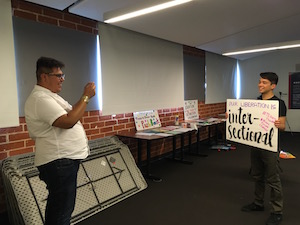 In addition, ACLU policy advocate Kelli Soto spoke about the California Healthy Youth Act's mandate that schools to provide comprehensive sex education to students, meaning that trans and queer youth have the right to the LGBTQ-affirming information they need to be sexually healthy and engage in healthy relationships. While the California Healthy Youth Act is groundbreaking, it is the students who will know whether it is actually happening in their schools. As a result of GAYLA, more students are now prepared to advocate for their right to comprehensive sex education.
Then, guest speaker Justin Florez from Equality California presented on proposed legislation that GSA Network youth will have the chance to advocate for this month in Sacramento. Suicide Prevention Policies in Schools (AB 2246) and the Equal Restroom Access Act (AB 1732) are both policies that have the potential to impact all trans and queer students in California. Students spoke passionately about the need for mental health supports in schools based on their own experiences. We concluded the day by role-playing legislative visits. We are ready to make trans and queer youth voices heard in Sacremento!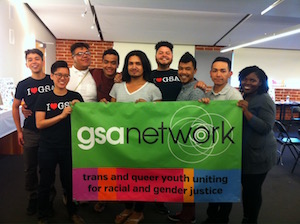 Cathy Chu is the GSA Network Southern California Regional Manager and a student at UCLA Graduate School of Education and Information Studies.