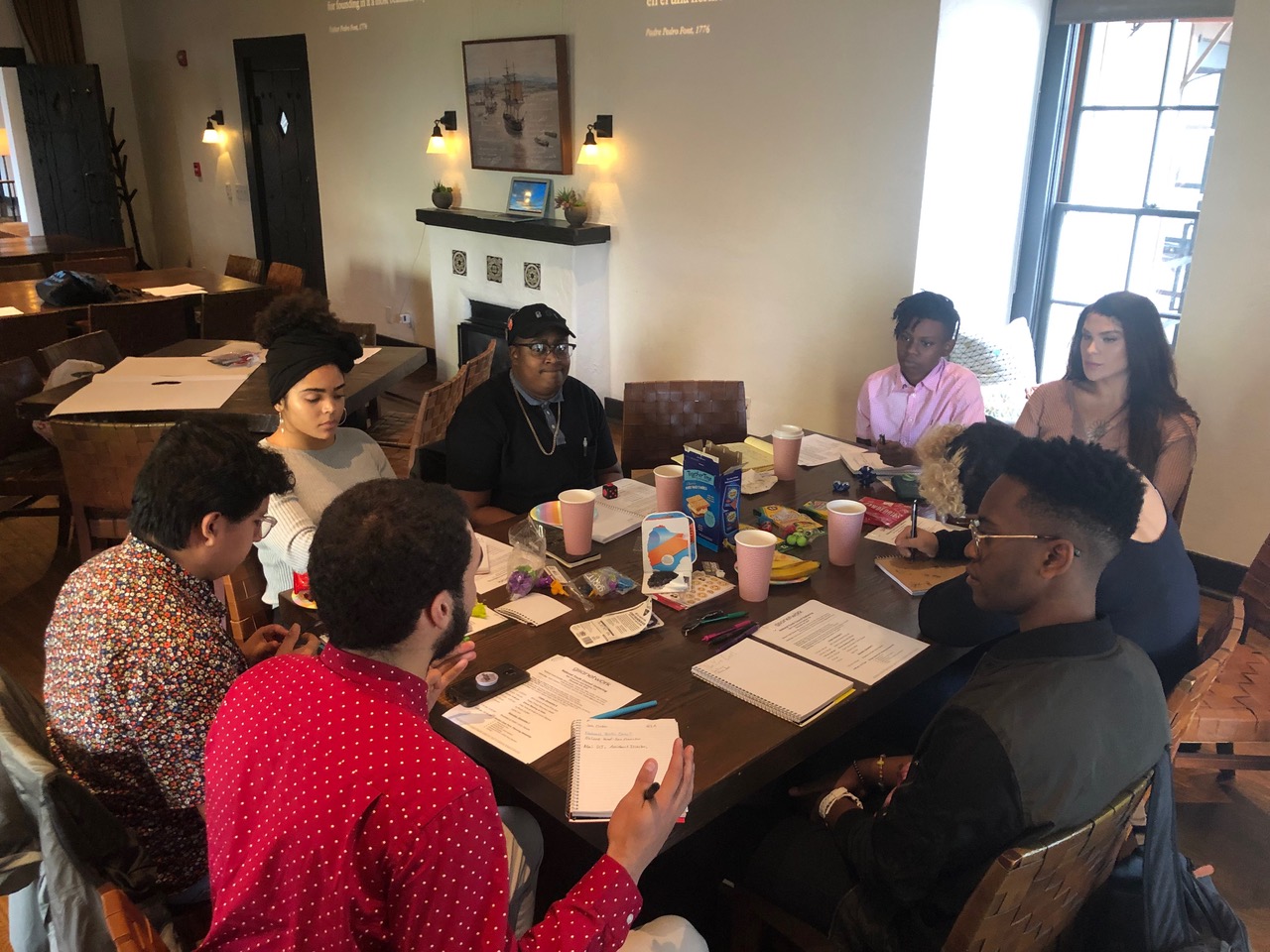 The 2020 National Youth Council hard at work planning GSA Day for Racial Justice (#GSADay4RJ)
This is what we know about the school-to-prison pipeline: It disproportionately affects trans youth of color across the U.S. who simply want to get an education and thrive. They are suspended, expelled, and arrested at higher rates than their cis, white peers because of biased, zero tolerance discipline and policing. As a result, they get pushed out of school and into the juvenile justice system.
But we also know that trans youth of color can rise above and overcome school pushout and lead in their schools and communities.
#WeHonorThem and call on GSA clubs across the country to shine a light on these powerful leaders for GSA Day for Racial Justice (#GSADay4RJ) on February 21st, an annual day of action led by the National Youth Council to uplift multiple identities that trans and queer youth of color hold!
Leadership comes in traditional and non-traditional forms, and each one is valid. It can look like organizing a protest in response to a racist incident on campus, or being the best listener in a friend group. This is how some members of the National Youth Council define it:
"[Trans POC leadership is] creating opportunities and space for all POC, and giving back to those whose rights have been stolen from them, giving justice to those who have been affected by living in these marginalized communities and decolonizing the POC who have been affected and taken from for so many years." —Chante Ray from Louisville, Kentucky (she, her, hers)

"My personal definition of a trans youth leader of color is someone who's unapologetically themselves and wants to help people succeed. Someone who knows how to get others to be their best selves. Someone who not only takes charge but knows when to fall back and let others shine. Someone who's for all trans folks not just the ones that pass or are binary." — Atticus Alexander Hamlar from Blacklick, Ohio (he, him, his)

"TQPOC youth leadership is an act of revolution, as we are not supposed to be leaders. It is recognizing how the inequity and barriers we face restrain our ability to lead and be vocal, and then doing it anyways." — Jae Williams from Westbend, Wisconsin (she, her, they, them)

"TPOC Youth Leadership is the acknowledgment of hard work done by minorities in schools or communities. Also, it is the representation of minorities in roles of influence and impact. It encourages the idea that anyone, no matter what they look like or where they come from, can be a leader. But most importantly, TPOC Youth Leadership is the future for generations to come." — Dylan Campos from Branford, Connecticut (he, him, his)
Take action to honor, share, and archive stories of trans youth of color leaders in your school or community this #GSADay4RJ.
To learn more about the school-to-prison pipeline and how it impacts trans and queer students, especially those of color, share these resources with your GSA: 
LGBTQ Youth and School Pushout 
The School-to-Prison Pipeline and GSAs
Two Wrongs Don't Make a Right: Why Zero-Tolerance is Not the Solution to Bullying
Together we can uplift inspiring young people who say #StillWeRise and thrive despite oppression in schools.