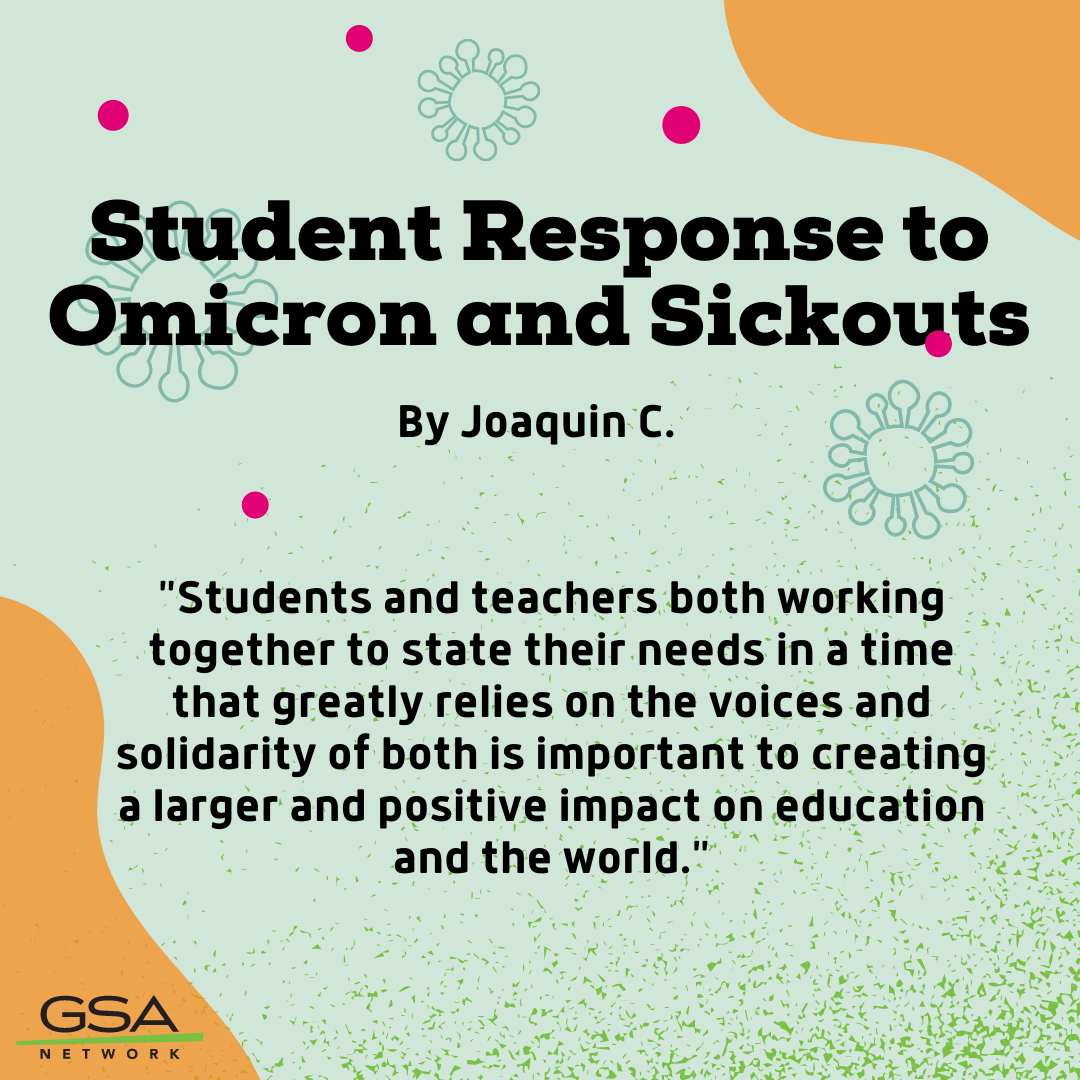 By Joaquin C.
With the start of 2022, the high hopes of entering the year with lower COVID cases would quickly fall as a new variant- Omicron– enters the country. With the reconvening of in-person school and a lack of standardized COVID safety procedures, this new variant is rapidly transmitting across communities, disproportionately affecting and causing great concern for students. As this new variant continues to rage on, many schools across the country have been stuck in a position of being forced to stay open, due to Governor orders and schools relying on attendance for funding. However, with the recent Delta and Omicron variants (Omicron being the most recent/most transmittable), it feels as if the pandemic is nowhere close to finding an end. Within California alone, cases have spiked to a whopping daily average of 110,000 positive cases per day in the last few weeks. Due to the rise in cases, many people have been asking why we are continuing to stay in schools, continuing to act as if life hasn't changed, and what will happen next from Governor Gavin Newsom, who implemented a stay-at-home order when the pandemic first hit in March 2020 that ended on June 15, 2021. 
With the lack of action from state leaders and school districts, students in schools across the state have decided to take those concerns into their own hands by forming sickouts in protest of the poor responses towards the new influx of COVID cases. Some of these poor responses include a lack of schools providing KN95 masks and minimal COVID testing or precautions being taken to avoid exposure. On January 7, 2022, 12 schools, all from the Oakland Unified School District, were forced into closure when teachers and students performed sickouts (A sickout is when participants take unwarranted sick leave as a form of group protest, usually to skip around a formal strike). Students standing alongside the many teachers of the Oakland School District had formed a petition to voice that "-OUSD students are not comfortable going to school with the rising cases of COVID-19." As of January 17, 2022, 1,212 students have signed this petition. Alongside the sickouts led by teachers, students have also planned to commit to a sickout on January 18th, following the new list of demands/petitions sent out. The collective community reaction in Oakland has made it clear that the response to the rise in COVID cases hasn't been handled effectively, but this outrage isn't just local to California, but many other states as well. 
In New York City, staffing shortages are springing up as teachers threaten and continue walking out of schools while in Seattle, students had planned to follow through with a sickout on January 14th due to the rise in cases and similar to New York City, the lack of staff availability also led to students pondering on the health risks and safety of being in school during this time. Many teachers shared on Twitter their thoughts on schools closing due to sickouts with support- stating "You, our nation's students, our leaders of tomorrow: continue on in your fight! Raise up your voices to be heard on high! And, of those living the old ways – let them see this cloth cut anew, freed from its old bindings; and let them witness a new tomorrow!"(Source) while some other teachers feel that, "…schools should be open right now- We are a great source of strength for students right now, for families right now. We're a place of learning, a place of comfort and a place of compassion and that's what we need."(Source) Regardless of where teachers and students fall on opinions of virtual or in-person learning, the general response is that "We are saying we need X, Y, and Z to make schools safe, and leadership is not listening to that."(Source) Although these responses are from students and teachers around the country, I also wanted to hear how my own community in Santa Cruz County felt about this situation. 
As students and teachers both work together and continue to project their voices, my own school and community have also been sharing their thoughts on the effects of COVID in schools. When I asked multiple students and teachers about their feelings on the matter, many students felt that "It's definitely made COVID more real [to students, especially] seeing it in front of ourselves. [We've all been] feeling more hesitant to be in bigger groups of people- but I'm glad our school has testing available as exposures come in, and [that we get] results within 2 days." For my school, testing has been made available twice a week, giving students a higher sense of safety, while many other public schools aren't getting access to those resources, which directly correlates to why staff and students may be protesting in schools. Another concern that students shared was the negative effect on their mental health that the rise in cases and isolation caused. When asked what could be done differently to deal with the way COVID has risen and affected us in the new year, students responded with varying answers, ranging from asking people to get vaccinated/booster shots, creating more programs to help those being affected financially, or making sure students have access to resources if deciding to work independently at home on computers. Regardless of opinions around health, students unanimously felt that it was important for schools to provide resources for students working independently, specifically making sure students have access to computers. Various public schools have been given the opportunity to do work independently since a new bill signed in California went into effect in September of 2021. Students in public schools from Santa Cruz County all felt that they should be given the option to virtual school and have a say in their own physical and mental health. But because California (and many other states) public schools get funding through attendance numbers, some students and teachers also felt that sickouts might negatively impact their school resources. With the pandemic leading to virtual classes and impacting funding, many people are calling for a change to how this funding is made, and one student I spoke to felt that the current funding through attendance, "could be more destructive than helpful." The spike in COVID cases, especially with the Omicron variant, continues to threaten mental health and financial stability but is also proving to be a pivotal point in the conversation around how education should shift moving forward. Students and teachers both working together to state their needs in a time that greatly relies on the voices and solidarity of both is important to create a larger and positive impact on education and the world. Seeing the many responses of the public has given me hope that we can continue to speak up on our wants and needs to build a better future for all.