By Shear Avory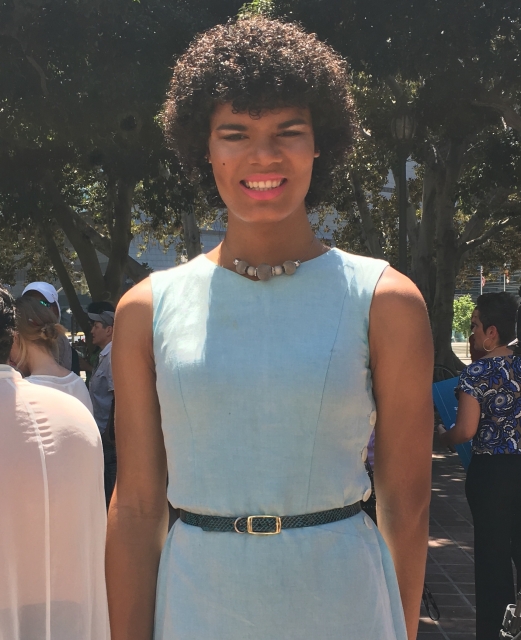 As a multi-racial, Black and Indigenous, Trans-Gender-Non-Conforming femme youth of color and advocate, I am immensely appreciative of the opportunity to have represented youth inclusion and movement at the announcement of Transform California on Monday, April 18 alongside Los Angeles Mayor Eric Garcetti, West Hollywood Councilwoman Lindsay Horvath, Transgender Law Center Executive Director Kris Hayashi, Equality California Executive Director Rick Zbur, TransLatina Coalition Member Maria Roman, and community activists and allies.
Transform California is an unprecedented public education campaign spreading awareness and equality for transgender and gender nonconforming Californians. Founded by the Transgender Law Center and Equality California and led in development by 30 organizations, including GSA Network, Gender Justice LA, Familia Trans Queer Liberation Movement, TransLatina Coalition, ACLU of Southern California, and the Los Angeles LGBT Center, Transform California is at the vanguard of the growth, development, and wellness of our intersecting communities and in the intersecting movements of equality.
The campaign empowers understanding and inspires visibility through featured videos of the stories of transgender and gender nonconforming people, inviting the sharing of experiences, education in community engagement, and encouraging the public to pledge to learn about the lives of transgender people in California and the oppressions that we endure.
My Story
I began medically transitioning in August of 2015 at the age of sixteen and discovered that transitioning is more than a medical process. It is more so an emotional process of transitioning into who I am and have always been. At the forefront of transitioning into my authentic self was and remains the process of actively reflecting upon and deconstructing internal transphobia and questioning the societal binaries of feminine and masculine in relation to my identity. Throughout my entire living experience, I have endured the struggle and the reality of discrimination because of my process of discovering myself fluidly outside of conformity.
As a young student in preschool, I recall being enthusiastic to engage with my peers in activities and being bullied by students and ridiculed by educators for my gender expression. From preschool through recently seeking my General Education Diploma, I endured verbal, emotional, and physical harassment and bullying in 13 schools. In 2013, my sophomore year of high school within the Los Angeles Unified School District, extreme harassment escalated such that my grades suffered tremendously, and I could no longer attend school safely and avail from the benefits of education.
My right—and the right of every student of all identities in this nation—to avail from the benefits of education in a safe and productive learning environment as a Transgender-Non-Conforming student was repressed. Yet today I persevere in seeking higher education as a Bridge Student at Antioch University, bridging the gap of education, and in applying for community college while seeking my General Education Diploma.
Through all of the challenging moments in my life, there are people whose kindness, love, and understanding made it possible for me to persevere. These people, who were present at the announcement with me on Monday, include:
My first grade teacher, Elena Ruiz, who did my makeup at a time when I needed to know that someone saw me for who I am.
Ezak Perez, the Director of Leadership Development and Programs of Gender Justice LA.
Juniper  Cordova-Goff—a non-Binary trans femme person who has inspired me with their visibility and advocacy.
My mother, Amber Baker, whose unconditional love and support—through her process of transition within my own—has provided eternal hope in my existence.
Educators can be allies. Mentors can empower. Youth can inspire. Parents can be supportive.
Our Story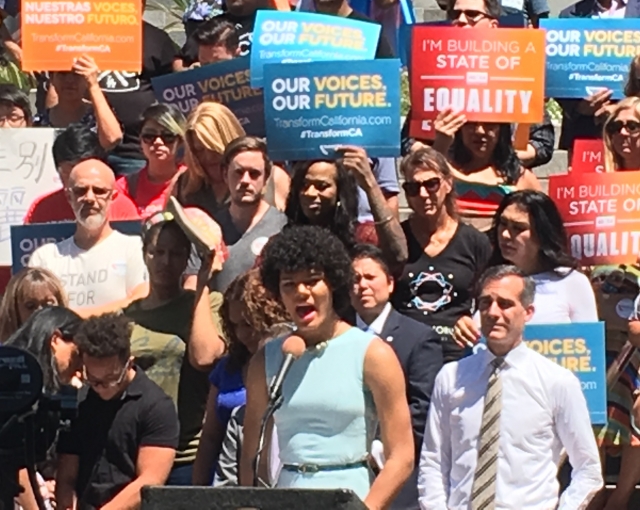 Our existence as transgender and non-binary queer folks is a revolution in itself! Our survival as transgender and non-binary queer people is a struggle that we can transform!
This is our reality. This our TRUTH. We as a divided nation are living consciously in a crisis that transcends and surpasses our borders.
According to Trans Student Educational Resources  (TSER), 80% of students feel unsafe at school because of their gender expression.
57% of transgender and non-binary queer youth have attempted suicide. (Source: The WIlliams Institute)
Transgender and non-binary womxn have a 1-in-12 chance of being murdered; the risk for transgender womxn of color is even higher, with a 1-in-8 in eight chance of being murdered. (Source: TSER)
Transgender youth are among the highest homeless and poverty percentage (Source: LA LGBT Center)
50% of trans people have reported to have been raped or assaulted by a romantic partner (Source: TSER)
30% of trans womxn have been reported to have been incarcerated (Source:TSER)
Transgender and non-binary queer people are 4X more likely to have a household incomeunder $10,000 (Source: Trans Queer Fight For $15!)
60% of transgender youth who have been denied access to school restrooms that reflect their gender identity have attempted suicide. In the six states that are currently considering the passing of Anti-Trans legislation— North Carolina, South Carolina, Tennessee, Mississippi, Kansas, and Illinois—the Williams Institute predicts that, if these legislations pass, between 7,600 and 17,101 transgender youth are expected to attempt suicide in these six states—with 1 in 100 and1 in 200 youth aged 15 through 24 who attempt suicide to die as a result—totaling three classrooms. (Source: Williams Institute)
Our TRUTH is also misrepresented and erased in media with the lack of media coverage while privileging the stories of cis and dyadic people and embracing cis and dyadic people representing our stories and tokenizing our struggle. The systemic media coverage and portrayal of the announcement of Transform California illustrates how our stories are being told and perceived—the headlines from the Los Angeles Times to local news reports regarding the announcement of Transform California on Monday stated that "Los Angeles Mayor Eric Garcetti Pledges to Support Transgender People."
With the support of the Transgender Law Center, Equality California, and statewide social justice organizations, our community came together to Transform California and stood—some with various dis(abilities)—in solidarity on the steps of Los Angeles City Hall; we shared our experiences and our struggles to educate Californians only for our stories to be tokenized with the act of erasure.
Our TRUTH also is that transgender and non-binary queer youth are to be seen and are to be heard as we unite and advocate for racial and gender justice. At this moment in the liberation and longevity of our intersectional and intergenerational movements, empowering the leadership of youth and young people as the next generation of innovation, is needed at the forefront of our movements and collective efforts as we move forward.
Our TRUTH is that we are resilient. Our TRUTH is that we are visible—we are visible to ourselves internally and externally to the perceptions of society. Our TRUTH is that we are the change!
As we Transform California, we are transforming awareness, we are transforming equality, and we are transforming healing internationally.
For more information about Transform California and to pledge to transform equality, visittransformcalifornia.com.
Shear Avory is a member of GSA Network California TRUTH (Trans Youth) Council, as well as Program Assistant at Gender Justice Los Angeles and a 2016 Angel of Change for the Transgender Youth Health and Development Program for Children's Hospital Los Angeles.