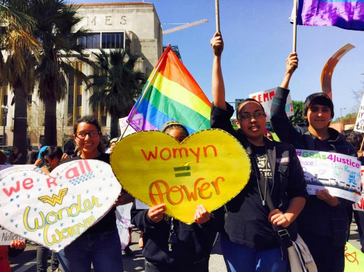 The landscape for LGBTQ youth in education has shifted and GSAs are transcending their traditional roles as safe spaces, becoming vehicles for social change in their schools and communities. Empowering LGBTQ youth to become the leaders of a new LGBTQ movement requires bold vision, innovation and purpose.
That's why, last month we shifted our organizational leadership and announced a Co-Executive Director model that will guide our work as a leading national, LGBTQ youth-driven powerhouse that is organizing at the intersection of trans, queer, racial, economic, and educational justice.  Thanks to your support, GSA Network has solidified the role of trans and queer youth as leaders in the national safe schools and educational justice movements.
As new Co-Executive Directors, we will keep working to develop the next generation of LGBTQ leaders, particularly those systematically denied educational access: trans youth, low-income youth and youth of color.  We also plan to engage in a process of re-centering the most vulnerable voices with an intentional focus on the Southeastern U.S. and foster the expansion of the national GSA movement by growing the networks of GSAs around the country to support organizations working at the intersection of LGBTQ, racial, and economic, and educational justice.
In our first 100 days on the job, we will host a series of LGBTQ youth advocacy trainings in three regions in California, bring together GSA organizers from across the Southeastern states to build their leadership, and develop a national strategic plan that will guide the direction and effectiveness of national, youth-led campaigns.
We are grateful for the opportunity to do this important job in service of LGBTQ youth across the country, particularly trans and queer youth of color who have been historically underrepresented in our movement and our leadership.  We know it will require more than 100 days to develop the next generation of LGBTQ youth leaders, but we are ready to begin.
Your investment in LGBTQ youth has allowed GSA Network to become an innovative and cutting-edge organization and we look forward to sharing our progress with you.  Please stay connected as we continue to innovate and lead with purpose.  Thank you for believing in the enduring power of LGBTQ youth.
Sincerely,
Ginna Brelsford and Geoffrey Winder
Co-Executive Directors, GSA Network