By Alex De Leon
Do you ever get to hear about openly trans and queer young men of color attending an all young men of color camp? Where the young men are not from the same community and coming with different experiences? You are probably thinking to yourself, no I have not. Before today, I would of said the same thing. Well just two weeks ago, five of our Queer Bros leaders, 150+ youth and mentors traveled from all across the state to attend the Sons and Brothers Camp to learn about the different systems of oppression that were built to divide our communities. They also learned about the different movements that were created to fight back against those systems and unites our communities by young men and women of color who came before them.
This camp was made possible with the support of The California Endowment, Movement Strategy Center and many more social justice organizations. I could tell you all about the unique experiences however, three of our Queer Bros will tell you how it went for themselves.
Meet David Vargas, Johnny Ramos and Noah Jenkins.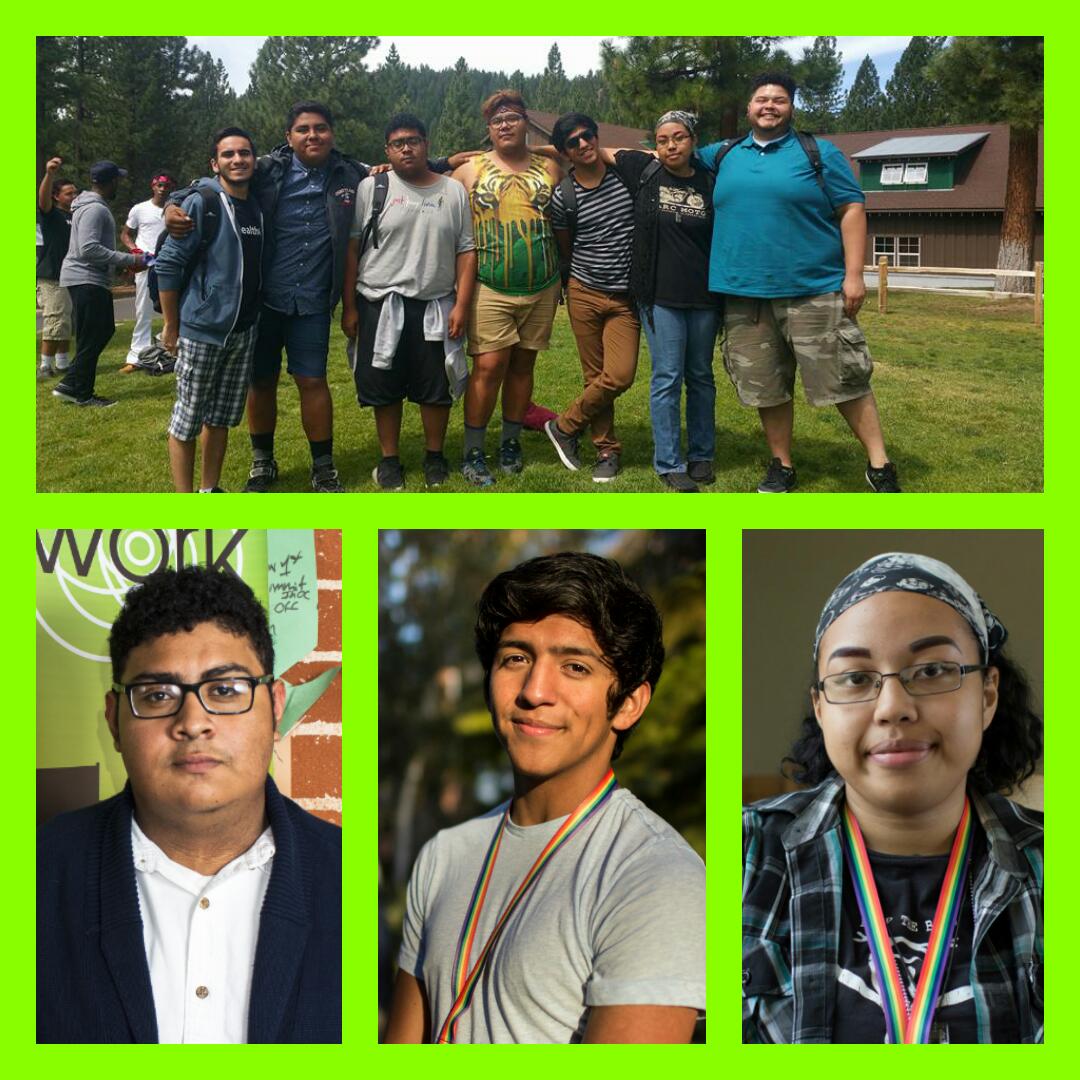 Noah-
This year I was invited to take part in a week-long summer camp with boys and men of color from many different organizations across the state. The camp was held in Portola, California at the Grizzly Creek Ranch, where the environment was just as regenerative as the curriculum. At first, taking part in the event was quite intimidating for a trans-masculine person like myself, not knowing if I was going to be accepted and embraced in a space such as this, but when everyone opened their arms to me and accepted me as their sibling, my heart was touched.
David-
It was really a great opportunity to explain issues that impact students like me who are brown and queer. As a young man of color it feels like LGBTQ information is not as emphasized as simply as other aspects of criminalization or hardships I go through. So to be able to shed further light on a topic not really ventured outside of LGBTQ spaces was a cool and enjoyable rewarding experience.
Johnny-
Two lessons stuck out for me, the historic impacts behind the student-to-prison-pipeline and the importance of LGBT issues. Through these lessons I learned to come out of my shell more because my voice does matter.
Noah-
In a space such as the camp, not only are you bringing people together from every part of the state with different cultural perspectives, you are also bringing together folx that do not all necessarily identify as LGBTQ+. Who knows how they'll react or how they will look at you afterwards? It was scary, to say the least. But it was also heartwarming. A lot of people showed a genuine concern for what I was saying when I talked about Proper Gender Pronouns or just LGBTQ+ issues in general. I could see the look of understanding in each of their eyes when I brought up my own experiences, and though making myself that vulnerable was incredibly intimidating, I could tell that a lot of folx took so much away from our conversations. Even with the fear that came with it, it is something I would not have given up for the world.
Noah-
At the camp, quite a few people "came out" as LGBTQ+ and honestly, I felt so honored to be there to witness it. And inspired. "Coming out" means so many things for so many people. I had to come out as queer, trans*, disabled, and so many other things. Something that all of those experiences had in common was how nerve wracking they were. You are essentially sharing a truth that has the potential to put you in serious danger if told to the wrong people. Every time you "come out" you are entrusting your life and your mental health to people. The fact that these brave folx trusted us to accept them as they are was incredibly heartwarming. From that point on, it felt like we were a true family. And we were.
David-
It takes a lot of courage to come out to your friends, but to come out in front of many other people from all over the state, that is courage on an entirely new level. Welcoming those new folks to our community with an embrace of open arms and a caring was a special surprise. To Queer Bro's reading this, just know that you are never alone. You have a network of people who love you and care about you, and will be there for you throughout your journey of self-exploration and social activism.
Noah-
The entire week was eye opening. It revealed to me many of the problems we still face in our schools and communities. These are things that desperately need to be changed for the better. I'd like to see restorative justice practiced in place of the excessive suspensions and expulsions used to push out students for willful defiance.
Johnny-
This year, I want more acceptance in our community-schools, I want more LGBTQ students to feel empowered to stand up for themselves and learn about their community struggles and history behind our triumphs. There is no indifference in all that we face as students of color and I do not want my education to be comprised for my peers, myself, and community alike. To work towards finding solutions to suspensions like our work with the Brothers, Sons, Selves Coalition. I want create a school climate that challenge districts like my own to implement FAIR education that includes the historical and social contributions of with disabilities and lesbian, gay, bisexual and transgender people.
David-
After this transformative time at camp, I will continue to be an advocate of change. Many people forget that those of us who fall within the category of Queer People of Color have an even bigger load to carry in terms of their safety and well being. In my community school, I demand to see reduction of unnecessary police presence that contributes to a school climate and atmosphere of unnecessary hostility and angst. A change that looks like more use of more restorative justice methods to support students and establishments of more LGBTQ positive spaces for equality in student rights like my Gay-Straight-Alliance (GSA) Club. I want to see that change.