By Brittaney Carter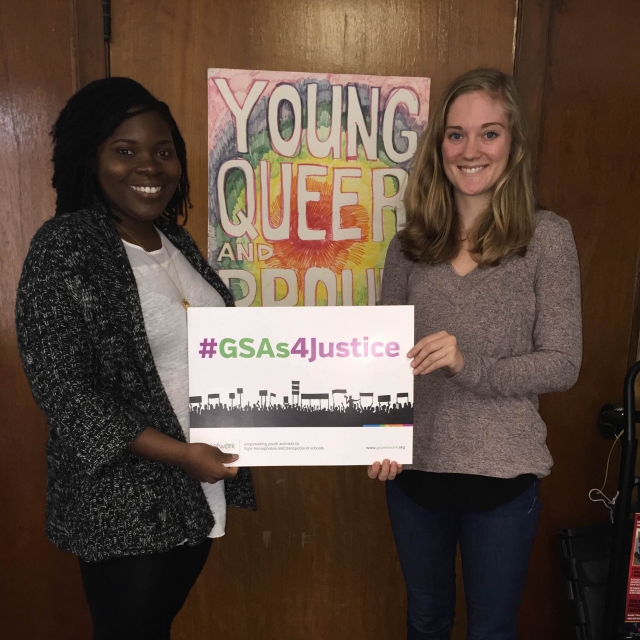 Earlier this month, we joined the GSA Network as the new communications team. We are excited to join this network of more than 1000 GSA clubs throughout the state of California, as well as the National Association of GSA Networks, which includes 41 member organizations supporting LGBTQ youth in 40 states or across the country. The youth activists at the heart of the organization are brave, intelligent and committed to creating a world in which they can fully embrace their whole identities, including gender, sexuality, race, ethnicity and class. We are here because of them.
GSA leaders courageously use their stories, experiences, and leadership in the service of building a more just future for trans and queer youth. They are also dedicated to creating inclusive communities, wherever they are. As communications professionals responsible for both the Oakland-based GSA Network and the GSA Network of California, we are inheriting media platforms that exist to do far more than amass social media followers and build relationships with the press. We want to support GSA leaders as they tell their stories, and we want to help them use their experiences to call others into this intersectional movement for queer and trans youth justice.
We will do that by celebrating the youth activists who make up the GSA Network and by always looking to them first for the most effective messaging to reach their peers who have questions about how to exist in spaces that don't always welcome them. In the coming months, we want to grow our online presence through social media and email messaging as well as strengthen our communications efforts offline to reflect the impact that GSA clubs and youth leaders are having throughout California and across the country.
But one thing that won't change is our compass. Grassroots organizing has been the foundation of the organization, and that will continue to guide the communications efforts at the GSA Network.
Sincerely,
Brittaney Carter and Sarah Hyde
GSA Network Communications Team
About the communications team:
Brittaney Carter is the communications manager at the GSA Network. Previously, she served as a digital campaign manager at Color of Change, as well as a policy researcher and consultant at Race Forward and PolicyLink. She holds a Master of Public Policy degree from UC Berkeley, where she also advocated for intersectional policy curriculum and implicit bias training for faculty.
Sarah Hyde is the new media organizer. Before coming to the GSA Network, she studied social work and discovered her passion for violence prevention, social organizing, and community education. After graduating, she moved to the Bay Area and completed a public policy fellowship with the San Francisco Department on the Status of Women and an internship with the Public Education and Campaigns department at Futures Without Violence
Learn more about us and the rest of the GSA Staff here.