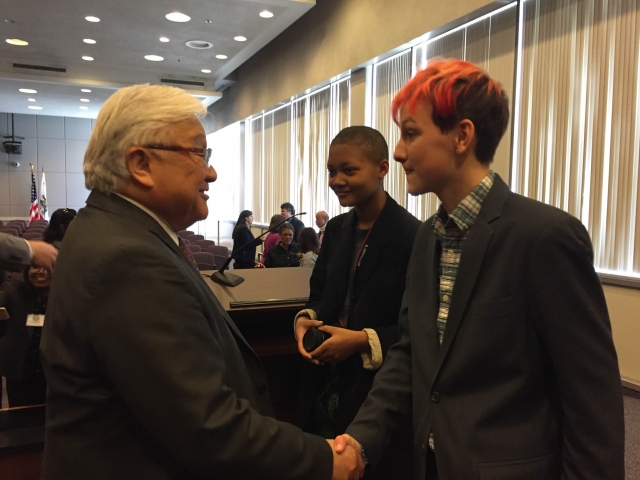 GSA Network youth leaders attended an event hosted by Congressman Mike Honda today on protecting the rights of trans students. The Transgender Equality Task Force Roundtable convened a group of LGBTQ leaders in San Jose to discuss how to prevent sex-based discrimination against transgender students in school and suicide prevention.
Ginna Brelsford, co-executive director for the GSA Network, spoke on the panel, as well as representatives from Transgender Law Center, Gender Spectrum, the Trevor Project and National Center for Lesbian Rights. The audience for the roundtable included parents and school board members from throughout the San Francisco Bay Area and San Jose.
The conversation about protecting trans students from unfair targeting and punishment in schools focused on a recent decision from the U.S. Department of Education Office of Civil Rights that affirmed the inclusion of gender identity and gender expression in Title IX protections.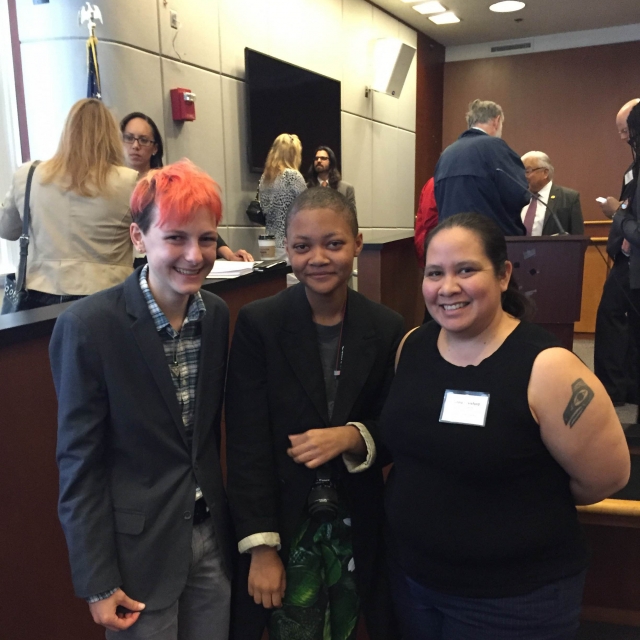 Ginna Brelsford spoke about the need to involve youth in the process of providing teacher training and administrator training in schools. "The youth know better than any of us what they need from schools. They need to be involved in the process of determining what trainings the schools need, the design of the trainings, and the presentation of the trainings," she said. Specifically with regard to the school trainings around suicide prevention she noted, "when we're talking about youth in schools, we also need to look at the harsh disciplinary policies that disproportionately impact LGBT youth because when youth are pushed out of schools, they're also losing access to the social support systems that schools provide."
Two members of the GSA Network's Northern California Youth Council, Eli Johnson and Cal Larisch, also attended the event. When engaging Congressman Honda directly, they asked how trans youth would be involved in the ongoing discussions following the roundtable. They also raised the point that the scheduling of the event, which took place at 9 a.m. on a weekday, was an obstacle for trans youth to attend.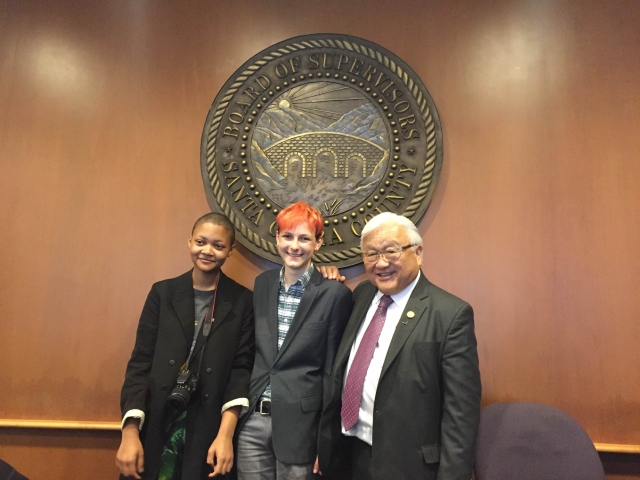 For more information on GSA California student leaders' advocacy for trans student rights, read our blog on the Clovis Unified School District dress code. Also, to learn more about California's School Success and Opportunity Act, which protects the right of trans students to participate in sex-segregated school programs, click here.