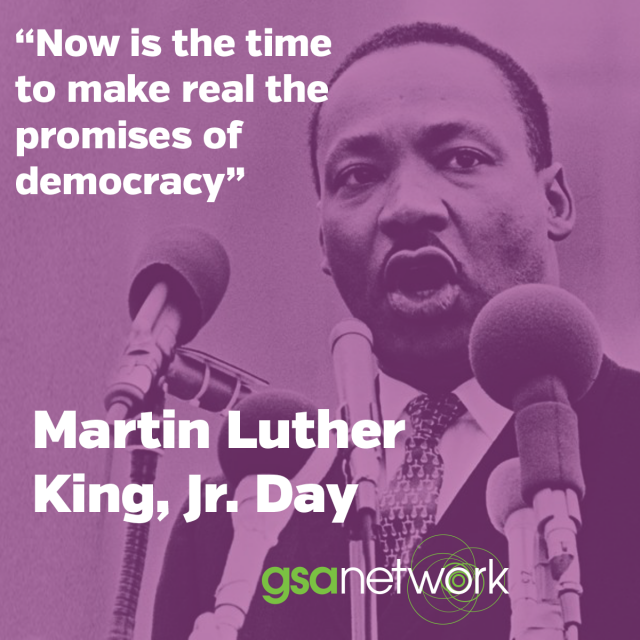 As communities across the nation prepare to celebrate their annual Martin Luther King, Jr. observations, the Black LGBTQ beloved community in Atlanta, Georgia is fortunate to continue the rich tradition of gathering community organizers, advocates, and activist to have breakfast before taking part in the historic march.
The 17th annual Bayard Rustin / Audre Lorde Breakfast is named from Dr. King's trusted political strategist Bayard Rustin and famed writer and organizer Audre Lorde. (www.rustinlordeatl.com)
With the Breakfast, we help hold space and create a program that is intergenerational while educating, empowering, and motivating our community to continue the legacy and spirit of the civil rights movement and the work of Bayard Rustin and Audre Lorde. This year's theme is "Love Letters Across The Generations: Honoring Our Elders," as we focus on elders, the impact of aging and affirm the power and wisdom of age.  We will also recognize the work of Trans elder Ms. Dee Dee Chamblee and honor the lives of our most recent ancestors Commissioner Joan Garner and Antron Olukayode.
It will be an honor to be in such a rich space with folks who are excited to help carry on the tradition of ceremony and kinship.  The breakfast also brings laughter and excitement that fills the air as participants reconnect and recommit to working together in the New Year. We will then take part in the historic march with thousands of others in the city, in a step towards the promise of freedom for future generations.
As GSA Network's new Southeastern Regional Organizer it is my vision for the South that we take action and continue to have the strength, will and determination of MLK, Jr., Rustin, and Lorde to ignite change and spark hope in our movements and in the lives of queer and trans youth, especially youth of color. We will be convening this spring during our ROC 4.5 and this summer during our Action Camp. See our website for more details. (gsanetwork.org)
Let us we reach across the generations and extend ourselves in search for a better tomorrow. Join us at the breakfast, or online next month for #GSADay4RJ on 2.23.18 (as we uplift Racial Justice). We must speak up and speak out, and resist! In the words of Audre Lorde, "your silence will not protect you".