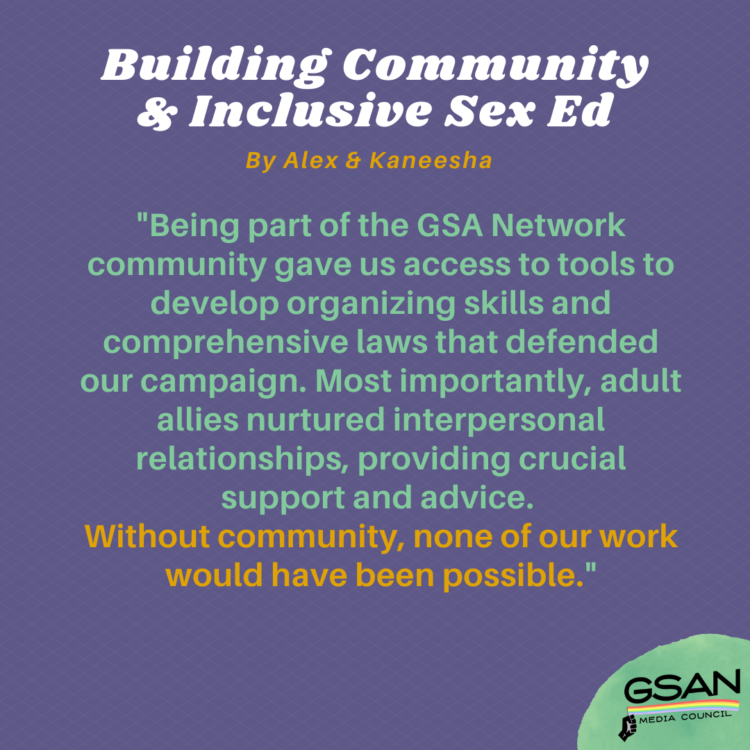 By Alex & Kaneesha
Alex (he/him) and Kaneesha (she/they) are high school seniors and community organizers from the same Northern California school district who recently led a campaign to implement inclusive sex education in schools. Access to inclusive sex education is critical as it allows trans and queer students to be represented in their education, provides access to local trans and queer resources, and combats disproportionate rates of STDs/STIs, unwanted pregnancies, assault, and relationship violence. Additionally, teachers can use inclusive sex-ed as a first step to taking a stand against discrimination in classrooms.
How has your background in organizing supported you in this campaign?
ALEX: Before this campaign, I've worked on various forms of inclusive sex-ed since freshman year. After speaking with school staff regarding gaps in sex-ed, nothing seemed to change. Frustratingly, I was forced to annually invite Planned Parenthood into my own and a local community GSA — I also invited a local organization that works with relationship violence survivors. However, I had previously organized other campaigns. My principal was familiar with me as the student who frequently requested gender-neutral bathrooms, locker rooms, and much more.
KANEESHA: Prior to the start of the school year, I started a district-wide organization aimed at creating antiracist, inclusive classrooms to ensure safer campuses for marginalized students. During these efforts, our lacking health education stood out as a crucial issue; it was evident that our education was not even meeting legal requirements. We facilitated a virtual town hall for students and faculty to discuss the failings of our health education and the importance of inclusivity in classrooms. Additionally, I started working with the district office administrator in charge of health curriculum for educators to receive training on inclusive sex-ed.
Alex and I met working together organizing a separate campaign and continued to work together on GSA Network's Campaign Council. We both sought the same goal so we decided to collaborate, allowing us to pool connections and resources.
How have you helped implement inclusive sex-ed in your district?
ALEX: After educators received appropriate training, we worked to humanize the issue. Queer youth were given space to share personal stories in a safe environment, providing student perspectives on inclusive curriculum and allowing students to be heard. We also filled knowledge gaps by giving teachers the space to ask questions and speak openly about their training; we even passed along our own resources! Additionally, teachers will begin implementing an updated curriculum next year. As they do so, younger organizers will communicate with teachers if they need additional support or resources to maintain an open dialogue.
How has the GSA movement inspired you to fight for racial and gender justice in schools?
KANEESHA: Being a part of the GSA movement has helped me hone my skills in building community and developing solidarity with other marginalized students. This has been invaluable in other organizing campaigns, such as fighting for more diverse English novels and history classes across my school district. All throughout, the passion for racial and gender justice shown by the GSA movement has inspired me to continue the fight even against widespread opposition.
What do you hope to give back to the GSA movement once you graduate high school?
ALEX: I have a lot of love for the GSA movement, especially the folks from my own GSA club. Primarily, I'm going to be donating a lot of time to my school's GSA — we're still fairly new, and even GSA Network was new to us, so I'm currently focusing on getting the new leadership team in contact with our regional organizers for all of the amazing resources I was able to receive when I took over. Additionally, I'll be serving as an adult mentor for those new youth leaders, aiding them as they grow into their roles. I'll be helping them set up meetings, recruit new members, and even eventually launch their own campaigns. GSAs are in a unique position to grow and utilize their people power, and I'm excited to guide new leaders in that process!
So, what did you learn from this campaign? 
As we fought for inclusive sex-ed, being part of the GSAN community gave us access to tools to develop organizing skills and comprehensive laws that defended our campaign. Most importantly, adult allies nurtured interpersonal relationships, providing crucial support and advice. Through this campaign, we learned that the preeminent aspect of organizing is giving and receiving support. Without community, none of our work would have been possible.