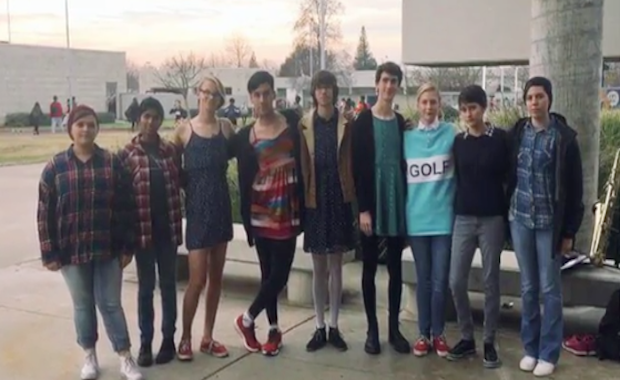 By Rei Bioco
The first day back at school this fall, it was apparent that the gender-neutral dress code—which we successfully advocated and mobilized to modify in Clovis Unified School District back in April 2016—had made it easier for transgender, gender nonconforming and non-binary students to express ourselves and be visible in school. Now we feel liberated to be who we are.
LGBTQ+ students knew it was important that our school district's dress code policy follow California's state law that protects gender expression, and we took action to change it with resources and support from GSA Network.
What we didn't know was that in the process of advocating for an inclusive dress code, we were building a strong community that is being led by youth leaders like me at the forefront. GSA clubs around Clovis starting working together and we were able to rally students, parents, and LGBTQ+ organizations beyond our city limits across the entire Central Valley in support. We united as a community, a network, a movement.
Changing the dress code gave us a sense of empowerment. Our GSA clubs and community of supporters worked together to get it done. But we still have more work to do together.
This school year, our GSA club is ready to collaborate with other clubs in the district to figure out what issues are impacting all of our schools and increase awareness for LGBTQ+ students. We hope to create more events that specifically address LGBTQ students and issues we face in order build a broader community for youth across the school district. We also want to create a network of teachers at our school who will become a resource and support the LGBTQ student community. We know that mental health and suicide awareness are big issues in our community, and we hope to address that together. We need resources to do this. Help give GSA clubs the resources they need by making a donation at gsanetwork.org/donate.
The Year Start Packet helps GSA clubs get started on activities and campaigns to make our schools safer and more LGBTQ-inclusive. By using this resource, youth leaders gain practical information and skills that empower us to create change, just like the students at Clovis have been doing. We know we can get a lot more done when we work as a community. I hope to count on your support!
Rei Bioco
GSA Club President
Buchanan High School, Clovis
GSA Network will distribute up to 1,000 Year Start Packets to GSA clubs this fall to help them launch campaigns for safer schools and healthier communities. Help give GSA clubs the resources they need by making a donation at gsanetwork.org/donate.