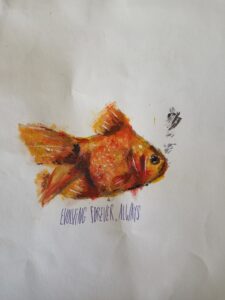 "The fish is meant to represent change, growth, and evolution. I chose to paint a fish because fish have grown for 530 million years. Some people might think that it's impossible to evolve so much and overcome so many obstacles throughout centuries, yet fish continue to grow and make their place in the world. I see the same with us humans. We may be in a gloomy time with how anti-LGBTQ bills have been threatening safety for trans and queer youth, but that doesn't mean we can't overcome these obstacles. Seeing how the fish I painted is a goldfish, think of it as a bright outlook for our future!"
By Joaquin C.
Since 2022 started, an onslaught of anti-LGBTQ bills has continued to sweep across the nation. One of the most basic bills on trans rights- gender-neutral bathrooms, or even primary bathroom usage, is still up for debate in some states, despite the significant victory over bathroom usage that other schools and students got to experience. It's clear that even between states, the fight for equity and basic respect for trans youth has wide gaps and that the work must continue. We see youth and adults banding together across states to declare a clear rejection of these bills as they continue to be drafted, processed, and passed. There are already multiple bills being passed in states targetting fundamental rights of trans and queer youth in every area, from education to healthcare and their fundamental rights.
On March 28, 2022, the controversial bill opponents named "Don't Say Gay" was signed by Florida Governor Ron DeSantis. This new bill plans to eliminate any discussions based on genders and sexualities for grade levels Kindergarten through 3rd grade in Florida. The community was and is outraged by the bill's signing and the clear implication that the state government won't provide support to LGBTQ youth. Similarly, a bill in Utah that bars trans athletes from playing in school sports aligned with their gender identity were signed. The bill was initially vetoed by Republican Utah Governor Spencer Cox, much to everyone's surprise, but quickly shut down as Utah Legislature overrode the veto. Twelve other states have followed suit with similar bills to the "Don't Say Gay" bill. As youth and adults continue to push for inclusivity in the country, the constant wave of anti-LGBTQ legislation also continues to be very harmful; especially to mental and physical health. For years now, LGBTQ folks have been in a wave of courtroom battles over their fundamental rights and forced to go through stressful public criticisms and legal proceedings, unable to focus on school or live everyday lives. 2022 has been, without a doubt, one of the hardest-hit years for anti-LGBTQ-related legislation, with a whopping 238 recorded bills drafted, proposed, or passed in various states so far. These bills target LGBTQ youth not just in education and sports but threaten their lives and mental health in all aspects of their identity.
Several states have drafted and continue to target affirming medical access for trans youth. New Hampshire has several bills in the discussion, one of the more outrageous bills being House Bill 1077, which would "repeal the prohibition on conversion therapy for minors." This bill brings back a dangerous practice that "attempts to change any person's sexual orientation, gender identity, or gender expression" and is excruciatingly damaging mental and physical health. People resort to drugs, become more depressed, and/or lead to suicide.  In another attempt to control trans youth medical rights, Kentucky has introduced House Bill 253, threatening trans youth and their guardians by charging adults with "unprofessional conduct and acting recklessly" should they allow gender transitioning for any trans youth under the age of 18, effectively making it illegal for trans youth and adult allies, whether guardians or health care practitioners, to treat and affirm trans youth.
As states continue to push anti-LGBTQ bills, there's been a huge negative toll on LGBTQ youths' mental health. "There are many things trans youth could face from this… like the obvious [of] not having access to our trans health care and gender-affirming hormones or surgeries when we might need them. That can affect our mental health a lot and the way we grew up, [and] the way people around us see us." as stated by one youth in Ohio. Youth across the country continue to call for state representatives to speak out against these harmful bills that deteriorate mental health and crush the possibilities of trans and queer youth being able to thrive and ask that they, along with other adult allies, show up for LGBTQ lives. When calling for allyship with adults, including teachers and parents, youth have a lot to say about how people can come through. "Definitely keep yourself educated because it might affect you to hear the stuff, but not as much as a trans kid." says another youth in California.
Allyship is always necessary when tackling statewide/country-wide issues, mainly when social politics target marginalized and vulnerable groups of people- such as youth- with limited political power. Youth voices must be amplified and given a platform to speak. Alongside centering youth voices, parents of trans and queer kids must also show their support whenever possible. Parents can stand up for their kids by offering support at the doctors' office, taking part in advocating for LGBTQ education at school, or opposing anti-LGBTQ bills. "I think the biggest thing [teachers can do] is publicly affirming that [they] support trans students [and] knowing that [their] space is a safe place for that student to be out and to talk with them." as said from one youth in Florida. Teachers should be recognized as leading adult figures, and having first-hand support from teachers is essential to students feeling safe in schools. Social media has also been a valuable tool in allyship; people and nonprofits can share resources on education, wellness, activism, or organizations that can be promoted in households, school clubs or even classrooms, community groups, etc., and find a community to connect to online. GSA Network has recently launched its new Devising Freedom National Strategy to "create a vision for transgender, gender nonconforming, and nonbinary youth to blossom despite the persistent attacks on their bodies and identities." Many local organizations are also mobilizing against these bills and directly supporting trans and queer youth in their city or state. Youth and adult allies must continue to offer support and center youth perspectives as we progress for more change.