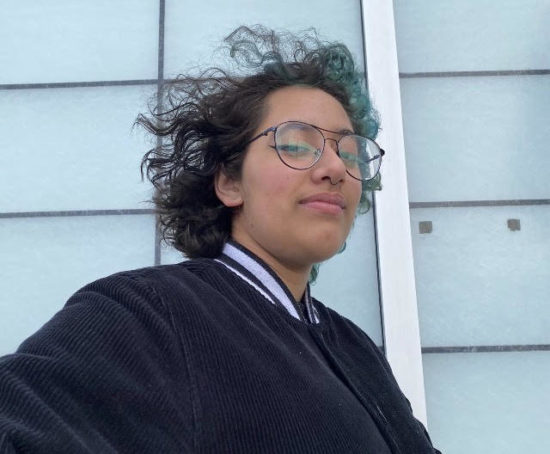 This interview is part of the #StillWeRise Series produced by the National Youth Council for GSA Day for Racial Justice (#GSADay4RJ). Click here for more interviews. 
Meet Adrian, interviewed by Jae from the National Youth Council 
Who are you?
Well, there's been a big shift in how I've viewed myself in the past couple of years. I guess I'm a trans, Brown person trying to make it in Madison, WI, which is hard because Madison presents itself as "progressive," but once you're there for a while, you realize how racist it is.
What if your first memory of activism?
I think my first memory of activism was when I was super young. My parents [were] involved in old school activism, like walkouts and marches. I remember going to an anti-Scott Walker march in Madison.
What has pulled you towards activism?
I think when I was younger, watching TV and listening to music, I started to really hate how horrible conditions are for some people. Even within minority groups, like with intersectionality, it's a lot worse for some people. For example, it's hard living in Wisconsin being a person of color, but being trans on top of that is even harder. In marginalized communities, there's even more oppression.
How have your marginalized identities influenced your activism?
I've always known it was harder in society for my friends and me, but I didn't know how to change anything. I've always been assured in being Hispanic, because I've been treated differently for it. However, it took me a while to find out that I was gay and trans. I started recognizing how identities intersect when I started working with an LGBTQ+ nonprofit and it really validated my identities. My marginalized identities have allowed me to make more connections. I've been working hard in the Latino Nation group at my school, raising awareness for intersectionality in Brown spaces. We've had a lot of issues at school with the student body and I'm trying to get people as educated as I can.
How have [reactions to your identities] affected you in school?
Bullying, misgendering, lack of protection…etc.
How does the school-to-prison pipeline affect your community?
The school-to-prison pipeline specifically and systematically targets Black and Brown students, overwhelmingly for nonviolent situations. Where counselors and services are offered for white students, students of color often get arrested by police. Most relevant for Wisconsin, youth of color are grossly over-saturating the prison population [for] marijuana related arrests. This double standard not only profiles us, but stunts our growth as a community, limiting us from pursuing a higher education. Verona is like the general Madison area; although it is very progressive in comparison to more rural parts of Wisconsin, it is severely lacking [when it comes to] genuinely challenging societal ideologies. I've personally heard a lot of homophobic, transphobic, racist rhetoric from students and administrators, alike.
What is a hard lesson regarding activism you've learned?
Within the last year, there were ICE raids in Madison. I remember going to a [locally owned] store nearby with my family. It was last minute, on our way home, and we just needed milk or something like that. On the register, we saw in English and Spanish a sign saying that they were trying to raise money to help [with] legal costs because the husband of an employee had been detained by ICE on his way to work. I was very affected by it. The community was trying to help raise money so I started to organize at school to help. I interviewed the wife and she gave me a link to her GoFundMe. I shared it with my school and I spread it around my community. Even though there were donations, he was still deported. Even in Madison, where [there's] money, resources, and opportunities, people are still affected by what's not covered, seen, or reported.
What do you wish people understood [or] knew more about?
More should know that activism doesn't have to be just marches and walkouts. It can be just raising awareness or organizing on your own. Activism should be more accessible to everyone. People should know that there's a variety of things to do regarding activism. In my experience, many I've talked to about activism want to get more involved, but they just don't know how. My advice is to just be involved in the community and make connections, and you will find your way. There's a variety of activism [that can] look many different ways and no one needs to join any organization. They can do what they can on their own. I'm working with Freedom Ink, which is an organization in Madison that pushes police out of schools while giving back power to communities of color.
What is your advice to those wanting to be allies?
What I've noticed a lot with people that are new to being an ally is that they don't know the intricacies of it. They often speak over people, especially if they're white, but also just in general. My advice is to listen to those affected, and to find what they need you to do, not what you think you should do.
What gives you hope?
Honestly, working with GSAFE and also working with Freedom Ink and other nonprofits has given me hope. Seeing people becoming more active and interested in activism has given me hope because I can't vote yet, so it is inspiring to see people getting involved in different ways.
What is a leader to you?
Activism, in its many movements, is inherently about the kindness a population has for its most vulnerable and mistreated. While the need to stand to our oppressors is immense, activism should be fundamentally involved in taking care of the marginalized. Good leadership requires an extension of kindness to those who are most deserving of it.