GSA Network is pleased to announce the 2019 Liberate! API Trans and Queer Youth Leadership and Activism Award winner: Stanton Li. This award, created in 2018 in loving memory of Korean American trans activist Skylar Lee, is a celebration of LGBTQ+ API high schoolers striving for gender and racial justice in their schools and communities. Stanton will be presented with the Liberate! Award at the 2019 National Gathering of GSA Networks taking place in New Mexico in July.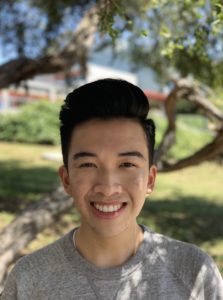 Here's a bit about Stanton's journey into activism and vision for the future, in his own words:
My vision for the future of youth advocacy and gender/racial justice is bold and daring. I envision a future where LGBTQ+ POC and allies will join together to remove the systemic barriers that fuel the discrimination and hatred that impact our community. My vision for the future is also intersectional. It encompasses people of all ethnicities, sexualities, genders, and backgrounds. Most importantly, my vision for the future is also driven by me.
I had never really considered myself an activist. If you had asked the shy, deeply-closeted teenage boy I was 4 years ago about institutional racism, movement building, or gender identity, you would've received a confused shrug and a stammered answer. Today, I use these terms comfortably and boldly in my youth organizing and advocacy. The path I've taken to understanding my identity has been supported and strengthened by my community activism work.
I began that work as an intern for LYRIC, a local San Francisco LGBTQ+ organization, during my freshman year of high school. I worked with other youth to organize a summer dance for LGBTQ+ students. The following semester, I wrote and presented an essay highlighting the issues of body image and eating disorder rates in the LGBTQ+ community. Around the same time, I began to get involved in my school's GSA after hearing about the groundbreaking work students were doing in fighting for gender justice. I was drawn to the vibrant, loving community I saw and I knew I wanted to work towards that goal. I was elected public relations officer of my school's GSA my senior year and I worked alongside other student organizers to bring justice to our school by distributing a petition calling for a second gender neutral bathroom. In addition, I started volunteering at the SF LGBT Center, where I was able to gain valuable insight on the unique needs of the LGBTQ+ community and the struggles we face. I also joined the Chinese Progressive Association as one of six youth leaders. We worked year-long on a campaign advocating for increased mental health resources within San Francisco's school district. Working across various organizations proved instrumental in developing my understanding of intersectional activism and community building.
Winning this year's Liberate! API Trans & Queer Youth Leadership and Activism Award is a tremendous honor. I'm truly grateful for the opportunity to attend this year's National Gathering of GSA Networks where I hope to further my knowledge of youth organizing and gender justice. The fight against the systematic oppression our communities face is far from over. I'm proud to be an activist and it's a commitment I will carry for the rest of my life.