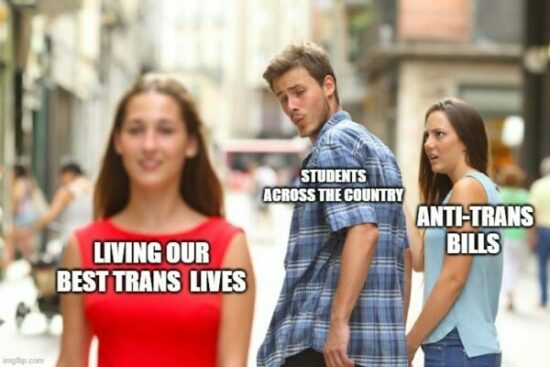 By Maya H.
This past Thursday, April 7th, the bimonthly GSA Network CA Membership Meeting was held for trans and queer youth and GSA members. From 5 to 7 pm, students and GSA Network moderators discussed everything from self-care to anti-trans bills passing through state legislatures across the country. Despite the heavy topics discussed, members were immersed in a supportive, safe environment that found a way to still celebrate trans and queer lives and joy.
The April meeting centered around dreams: trans and queer youth's dream GSAs, schools, and worlds. As members discussed their perfect world and why each possibility brainstormed–from free closets for youth to take clothes that affirmed their sexuality or gender to community gardens and zine-making studios–was important, they were guided to create action plans to turn those dreams into achievable goals. For youth who said they wished they had more GSA members to have larger discussions and make more change in their school as a club–they were prompted to think about how they might boost member enrollment, and by 7 pm, they had a plan for posters they would hang around campus.
After ideas were generated, shared, and fleshed out, the meeting transitioned to a lighter tone: a collaborative meme-making session. Members made and posted memes about queer resilience and liberation, coming out, and trans and queer current events, and then shared the photos to a delighted virtual audience. It was a way to, even in a time where trans and queer rights have taken center stage in the fight against inclusive education and athletics, inspire humor and creativity.
In the span of two hours, members were given leadership and advocacy resources, ideas for how to improve school GSAs, and connected with dozens of other trans and queer California youth. Entertaining, fast-paced, and homely, the Membership Meeting felt like a group of friends catching up, and is a valuable tool for GSA leaders and members alike. The next meeting will be on Thursday, June 2nd from 5-7pm, where accomplishments from the last year and the members who made them possible will be celebrated. You can register for it here.
Some more memes youth created: