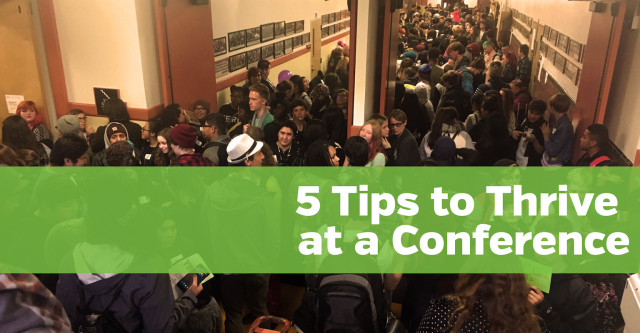 By Anna Davis
Trans and Queer folks of all ages are converging this week in DC at Creating Change, an annual conference hosted by the National LGBTQ Task Force. Like many other LGBTQ+ conferences, Creating Change has youth components but isn't strictly for young folks. It's also one of the largest annual convenings hosting thousands of conference goers.
Each year, dozens of organizations like GSA Network come together to facilitate workshops, network with funders and peers and see old friends who we've built community with over the years. For a newcomer, all of this can be overwhelming. So if you'll be in DC this week or if you're attending another event and are looking for some tips, check out our 5 Tips to Thrive at Conferences.
1) Locate the youth-only suites.
Most large intergenerational conferences have youth-only suites. At some, like Creating Change, they'll have food and other refreshments in there. Check those out as soon as you can to find out what kind of offerings they have and their schedule.
2) Find your spot.
We don't always get to stay at the host hotel or near the conference arena, so sometimes you need a little downtime away from folks. Find a spot in the hotel where you can decompress if you need to. Sometimes this is a coffee shop in the lobby (beware of the prices!) and sometimes it's just a quiet corner in one of the halls. Either way, find at least one spot that you can go to when you need a break.
BONUS: If it's got power outlets, that's an added bonus charging spot, but beware! Everyone is searching for power outlets so it's best to find a couple of spots that don't have prime amenities.
3) Drink lots of water.
That's it. Just keep on hydrating. Remember to bring your own bottle.  If you left it at home, check your conference swag bag and the organization tables for a freebie — just make sure you clean it before use.
4) Bring a distraction for de-stressing.
This doesn't have to be anything too big or involved but something to keep yourself busy if you need a break from the workshops, meetups, etc. You may have noticed folks bringing their knitting with them. That's a great way to keep your hands busy and give you something to work out any anxiety.
5) Find your crew.
Attending an event with friends can sometimes make it a little easier to not get overwhelmed. But even if you're on your own at a large conference, you're almost always guaranteed to find some folks that you can meet up with. Caucuses and workshop tracks are a great way to start. If you're at the conference for a specific reason — Youth and student advocacy — then you'll likely run into a few of the same folks each session.
What are your tips?
We hope some of these tips will be helpful at your next conference and remember most conferences are meant to include a mix of learning/teaching, social networking, and activation. Whether it's this week or at a future conference, go in with a plan for what you want to get out of it, how you're going to make it your experience and find a bit of time for yourself for reflection or self-care. Tell us your best tips and tricks for thriving at a conference!